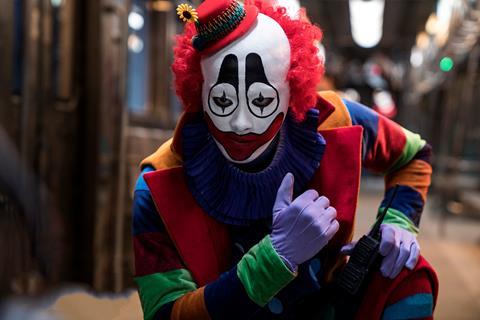 After a quiet couple of weeks, the China market roared back to life with today's opening of Jurassic World: Fallen Kingdom, which marks the unofficial start of a busy summer box office season.
As of 22:00 China time on June 15, the Universal Pictures sequel, opening one week ahead of its North American premiere, was topping the box office with $31m (RMB198m). The last film in the franchise, Jurassic World, racked up $99m on its opening weekend in China in June 2015, ahead of a final gross of $229m.
It will be followed in June by two other big US releases, both with a Chinese twist – Disney/Pixar animation Incredibles 2 (June 22), which is being released with a China-themed short film Bao, and EFO Films' Escape Plan 2: Hades (June 29), co-financed by China's Leomus Pictures.
Hollywood animation previously struggled in China, but has been connecting with audiences in recent years – Zootopia and Coco grossed $235m and $198m respectively – although Incredibles 2 is being released more than a decade after the original when the China market was still relatively small. It may receive a boost from Bao, produced by Pixar, about a lonely Chinese mother and a steamed bun.
Action thriller Escape Plan 2: Hades sees Chinese star Huang Xiaoming replace Arnold Schwarzenegger as the sidekick to Sylvester Stallone's prison break protagonist. It will receive a huge marketing push from its co-financier, Leomus, which has previously scored successes with films including the first Escape Plan in 2013, Now You See Me and Resident Evil: The Final Chapter.
Domestic film protection month
However, following this release, foreign films will fade into the background as China heads into the annual summer "domestic film protection month", which takes place around July/August and usually lasts longer than one month. Although the volume and quality of local productions during this period isn't always consistent, this year a string of highly-anticipated, big-budget productions are scheduled for release.
Opening on the same day as Escape Plan 2: Hades, Enlight Pictures' Animal World combines a strong director-star package with high-concept, VFX-heavy action.
Directed by Han Yan (Go Away, Mr Tumor) and starring Li Yifeng (Mr Six), Zhou Dongyu (Us And Them) and Michael Douglas, the sci-fi action thriller revolves around a high-stakes "Hunger Games" style gambling party on board a ship. Screening as the opening film of the Shanghai International Film Festival this weekend, it is also opening in the UK day-and-date with its China release (June 29).
Heading into July, at least two big local films will open every weekend in China – including Tsui Hark's Detective Dee And The Four Heavenly Kings, the fourth installment in Huayi Brothers' blockbuster Detective Dee franchise; cult director Jiang Wen's Hidden Man, an adaptation of a martial arts novel starring Eddie Peng and Liao Fan; and comedy Dying To Survive, produced by two of China's most popular filmmakers, Xu Zheng and Ning Hao.
July also sees the release of comedy Hello Mr Billionaire, which is being tipped by local media as a potential "dark horse" or sleeper hit, due to the talent involved and its themes. Directed by Yan Fei and Peng Damo, who co-directed 2015 hit Goodbye Mr Loser, and starring Shen Teng (Never Say Die), it revolves around the goalkeeper of an amateur football team who suddenly becomes fabulously rich.
The strong line-up continues into August with popular actor-comedian Huang Bo's directorial debut The Island, in which he also stars with Shu Qi and Wang Baoqiang, and Flagship Entertainment's The Meg, a big-budget creature feature starring Jason Statham and Li Bingbing. Although still currently undated, Zhang Yimou's highly-anticipated historical drama Shadow, starring Deng Chao, is expected in late summer or early autumn.
Strong concepts
This summer's crop of domestic produtions is markedly different to previous years when there was an over-reliance on films combining a well-known IP (usually an online novel, comic or game) with a cast of younger male actors, known in China as "little fresh meat" (xiao xian rou), who attract a large audience of mostly female fans.
Although this formula initally produced huge hits such as the Tiny Times series, the quality of IP-driven films has declined in recent years, turning off audiences and resulting in more flops than successes. Big domestic hits over the past year, including patriotic action film Operation Red Sea, Feng Xiaogang's nostalgic drama Youth and Rene Liu's romantic drama Us And Them, suggest that audiences are now more interested in strong stories and emotional resonance than talent packages and cynical adaptations.
This year's summer slate sees more emphasis on genre filmmaking, strong concepts and established directors who are being inventive in developing their brand. But that doesn't mean that this summer's box office will outpace last year. Summer 2017 was boosted by the exceptional success of Wolf Warrior 2 with its tub-thumping propaganda themes that propelled it to a gross of $900m and helped drive year-end box office to a record-breaking $8.6bn. Usually summer accounts for around 25% of China's annual box office, but last year, mostly due to Wolf Warrior 2, that figure was closer to 29%.
The on-going FIFA World Cup in Russia (June 14-July 15) may also have an impact on box office. Although China hasn't qualified for the World Cup since 2002, the Chinese government is giving football a huge push in the hope it can one day host the event and an estimated 100,000 Chinese fans are expected in Russia. Alibaba's streaming platform Youku has partnered with China Central Television (CCTV) to stream all 64 of the matches and off-game sidelights.
The highest-grossing Hollywood film so far this year, Avengers: Infinity War – which is now the third highest-grossing import of all time after Furious 8 and Furious 7 with a gross of $370m – recently had its run extended until July 9. But when it finally leaves Chinese theatres, no major US titles will be released until late August/early September when Ant-Man And The Wasp and Mission: Impossible – Fallout are expected to make an appearance. The only exceptions will be a few animated features, such as Sherlock Gnomes, designed to provide counter-programming for family audiences.
However, China's summer box office may be supplemented by the release of smaller foreign films, satisfying the audience's growing appetite for more diverse product and specialty fare. Thai animation The Legend of Muay Thai: 9 Satra is scheduled for release on June 29, and although currently undated, Cannes Palme d'Or winner Shoplifters, directed by Japan's Hirokazu Kore-eda, Japanese drama Destiny: The Tale Of Kamakura and French studio EuropaCorp's Taxi 5 are all lined up for coming months.
China Key Domestic Releases Summer 2018
JUNE 29
Animal World – directed by Han Yan and starring Li Yifeng, Zhou Dongyu and Michael Douglas, this sci-fi action film is based on best-selling Japanese novel and anime series Ultimate Survivor Kaiji.
JULY 6
L.O.R.D.: Legend Of Ravaging Dynasties – second part of Guo Jingming's 2016 CGI fantasy.
Dying To Survive – comedy from new director Wen Makino, starring Xu Zheng (Lost In Thailand), who also produces with Ning Hao.
JULY 13
Hidden Man – Jiang Wen's adaptation of Zhang Beihai's martial arts novel starring Liao Fan, Eddie Peng and Xu Qing.
Asura – Alibaba Pictures-backed fantasy drama directed by action choreographer Peng Zhang and starring Carina Lau, Tony Leung Ka Fai and Wu Lei.
JULY 27
Detective Dee And The Four Heavenly Kings – fourth installment in Tsui Hark's blockbuster franchise starring Mark Zhao, Feng Shaofeng, Lin Gengxin and Carina Lau.
Hello Mr Billionaire – comedy co-directed by Yan Fei and Peng Da Mo and starring Shen Teng, Song Yihua and Zhang Yiming.
AUGUST 10
The Island – Huang Bo's directorial debut in which he also stars with Shu Qi and Wang Baoqiang.
Love Apartment – romantic drama directed by Wei Zheng and starring Chen He and Deng Jiajia.
The Meg – directed by Jon Turteltaub and starring Jason Statham and Li Bingbing.
AUGUST 17
Unbreakable Spirit (aka The Bombing) – Second World War drama directed by Xiao Feng and starring Bruce Willis, Liu Ye and Nicholas Tse.
CURRENTLY UNDATED
Shadow – Zhang Yimou's historical drama set in the Three Kingdoms era starring Deng Chao, Sun Li and Zheng Kai.
Bodies At Rest – Chinese-language action thriller directed by Renny Harlin and starring Nick Cheung, Richie Jen and Yang Zi.