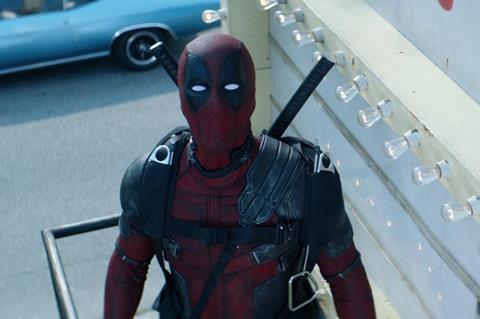 Although the first month of the year is not over yet for a few more days, January 2019 is set to be a month of negative growth compared to the same period last year.
After an eight-month delay on most other territories, Deadpool 2 finally arrived but it failed to revitalize the lackluster Chinese box office in the period of Jan 21-27 which saw a marginal week-on-week decrease for three straight weeks.
Fox/Marvel's superhero sequel took the box office crown with an underwhelming $21.6m from its three-day opening weekend. The PG-13 version (with a Chinese title Deadpool 2: I Love My Home) is reportedly the same as the Once Upon A Deadpool family-friendly cut which premiered last December in North America. This is the first theatrical release for a Deadpool film in China, as the 2016 first film, rated R, only received special screenings at the Beijing International Film Festival.
Light Chaser Animation/Warner Bros' White Snake continued to gain traction in its third week and climbed one place further to second, taking in $19m which was more than its second week gross. Standing at $42.6m after 17 days, it has become the fifth biggest local animation, after Monkey King: Hero Is Back, Boonie Bears: The Big Shrink, Bigfish & Begonia and Boonie Bears: Entangled Worlds.
After staying top for three weeks, Paramount's Transformers prequel Bumblebee dropped to third with $17m for $151.1m after 24 days. China is the film's top foreign market by a large margin, even bigger than North America by about 25%.
Sony's psychological thriller Escape Room maintained in fourth with $13.3m for $21.6m after 10 days, while The Big Shot, the Chinese remake of 2015 Korean crime thriller Veteran, has become the biggest film for Chinese actor Wang Qianyuan when it earned $9.2m for $47.8m after 18 days.
Boonie Bears: Blast Into The Past from popular local animated franchise added $3.5m for $5.6m based on previews only. It was followed by post-apocalyptic Mortal Engines on $2.4m for $6.5m; Herman Yau's Hong Kong housing comedy A Home With A View on $1.9m for $3.7m; Columbia Pictures/Bona Film Group's family film A Dog's Way Home on $1.6m for $4.5m; and local animation Dragon Force – Rise Of Ultraman on $1.1m for $3.1m, all after 10 days.
With just one more week to go before Chinese New Year, the Chinese audiences can hardly wait to catch the festive tentpoles. Pre-sales have started, with Crazy Alien, Pegasus and The New King Of Comedy leading the pack in the top three so far.