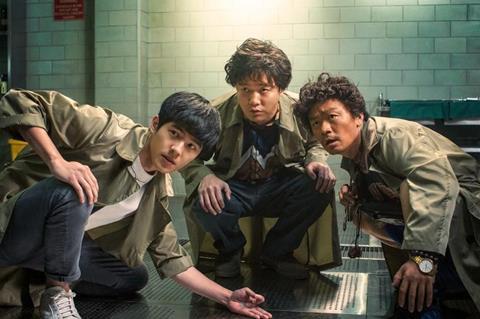 Following an auspicious start to the new year, the Chinese box office continued to explode in the week of Feb 19-25 with $782m, turning it into the highest grossing week ever in China.
As of yesterday (Feb 25), February's monthly box office has reached a historic RMB9b ($1.5bn), setting another world record for this Chinese New Year.
The festive titles played out an intense battle, shifting all of their positions. Detective Chinatown 2 moved up to the top, only marginally ahead of Operation Red Sea, while former champion Monster Hunt 2 was relegated to the third and Boonie Bears: The Big Shrink climbed ahead of The Monkey King 3: Kingdom Of Women.
Action comedy Detective Chinatown 2 became a runaway success with $276m. Standing at $440.6m after 10 days, it has propelled itself to the fourth highest grossing film ever in China, surpassing the first Monster Hunt and Furious 7. It has more than tripled the final gross of its 2015 predecessor which is also directed by Chen Sicheng and starring Wang Baoqiang and Liu Haoran.
It was a narrow victory over Operation Red Sea which trailed right behind on $275.1m. Like Dante Lam's last film Operation Mekong, it has proved to be a dark horse. The military drama which has no name cast opened in fourth to a modest $76.6m, compared to Monster Hunt 2's record breaking $198.2m. But its 10-day total of $352.4m has already overtaken that of Monster Hunt 2. Given that it has also moved past Detective Chinatown 2 for the No.1 spot since Thursday, it has the potential to become the final Chinese New Year champion.
Despite a massive opening weekend, Monster Hunt 2 fell to the third in the second week, taking $136.8m for $336.8m after 10 days. It has surged past Transformers 4 to become the ninth highest grossing film ever, one place behind Operation Red Sea. But Shrek The Third co-director Raman Hui's live action/CG hybrid, with Tony Leung Chiu-Wai added to the cast, has yet to exceed its predecessor which is still the fifth highest grossing film ever.
Family animation Boonie Bears: The Big Shrink maintained well and climbed to fourth place with $46.4m for $88.9m after 10 days, representing a new record for the five-film franchise.
The Monkey King 3: Kingdom Of Women has lost much of its traction and dropped to fifth. After adding $28.4m for a 10-day total of $113.3m, Soi Cheang's fantasy romance with Aaron Kwok, Feng Shaofeng and Zhao Liying will probably fall short of the final gross of its two predecessors.
The Faces Of My Gene, the directorial debut of comedian Guo Degang, added $13m for $21.3m after 10 days.
This week will see the release of Girls 2, Three Billboards Outside Ebbing, Missouri, All The Money In The World and Peter Rabbit, all on March 2.