Doctor Strange scores $44m opening; local comedy Mr Donkey overtakes Inferno.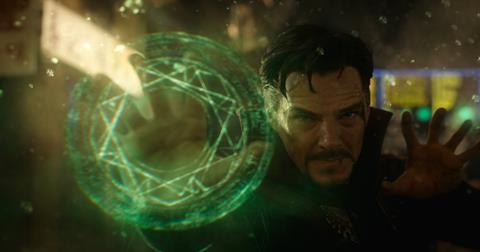 Five new releases entered the weekly chart at the China box office (Oct 31 – Nov 6), with Disney's Doctor Strange emerging as the clear winner, walking away with half of the week's takings. Opening day-and-date with the US, the superhero adaptation scored $44.46m from its first three days, making it the highest three-day opening weekend for the first instalment of a superhero film and the second highest three-day opening of all time for a US film (behind Spectre).
Local comedy Mr Donkey climbed from fourth to second place and added $10.94m for $19.99m after 10 days. Mahua FunAge's second production after sleeper hit Goodbye Mr Loser has a low budget without any name cast. But thanks to positive word-of-mouth, it overtook Inferno and topped the daily chart since Monday until Doctor Strange opened on Friday.
Sony's Inferno dropped to the third with $6.48m for $19.28m after 10 days. Based on Chinese currency, it has surpassed its predecessor, 2006's The Da Vinci's Code.
The highest new Chinese entry was Liu Jie's Hide And Seek, starring Wallace Huo and Qin Hailu in a Chinese remake of the Korean mystery thriller of the same name. Produced by Village Roadshow Pictures Asia, it opened in fourth place with a three-day total of $5.93m.
Two-time champion Mechanic: Resurrection fell to the fifth place with $5.67m for $49.64m after 17 days; followed by Hong Kong's crime thriller Operation Mekong which took $4.14m for a 38-day total of $174.72m from an extended run.
New Japanese animation Crayon Shin-chan: Fast Asleep! Dreaming World Big Assault! launched in seventh with a three-day total of $2.42m, while Dreamworks animation Trolls dropped to eighth with $2.09m for $6.96m after 10 days.
Another two new releases rounded out the top 10: Someone To Talk To, the debut feature of Liu Yulin produced by Edko Films, on $1.62m, and Making Family, a heart-warming drama featuring Korean actress Kim Ha-neul and Hong Kong actor Aarif Lee, on $0.78m, both from their first three days.
Driven by the strong performance of Doctor Strange, the box office was given a new lease of life in the first week of November and rebounded by approximately 28%, its first growth in four weeks.
This week's new releases include Keeping Up With The Joneses (Nov 8), Billy Lynn's Long Halftime Walk, Scandal Maker and One Piece Film: Gold (Nov 11).