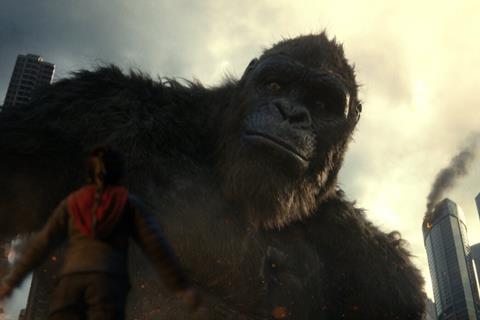 Warner Bros/Legendary's Godzilla Vs. Kong is crushing the China box office with a $70.5m opening weekend (March 26-28), according to figures from theatrical consultancy Artisan Gateway.
The China box office contributed to an international total of $122m from 38 markets, representing the biggest opening for a Hollywood movie globally in the pandemic era. (The film opens in North America in cinemas and on HBO Max on March 31 and will open in Japan, the home of Godzilla, in May.)
It was also the biggest opening for a foreign title in China in 2020 or 2021, ahead of Tenet, which ended up on $69.7m (RMB456.2m) and Disney/Pixar's Soul, which finished with $57.5m (RMB376.1m). Online ticketing platform Maoyan is currently predicting that Godzilla Vs. Kong will end up on $141.2m (RMB924.1m).
The 'Monsterverse' mash-up took $20.9m on its opening day in China (Friday, March 26), according to Maoyan figures, slightly ahead of the previous film in the franchise, Godzilla: King Of The Monsters, which grossed $20.7m on its opening day in May 2019. Godzilla: King Of The Monsters finished with $143m (RMB937.4m).
No other release came close in China last weekend, with Lunar New Year holdover Hi, Mom taking a further $3.6m for a cumulative total of $826.5m and second place in the weekend chart. The re-release of James Cameron's Avatar came in third with $3.5m. Avatar grossed around $206m when it was first released in China in 2010, and has taken a further $52m on its re-release for a cume of $258m.
Another Lunar New Year holdover, Rao Xiaozhi's Endgame, starring Andy Lau, came in fourth with $1.9m for a cume of $115.2m, followed by Disney's Raya And The Last Dragon, which took a further $1m, and has now grossed $18.8m since its March 5 release.
Films opening this weekend include local family drama Sister, starring Zhang Zifeng, and animated feature Monkey King Reborn.