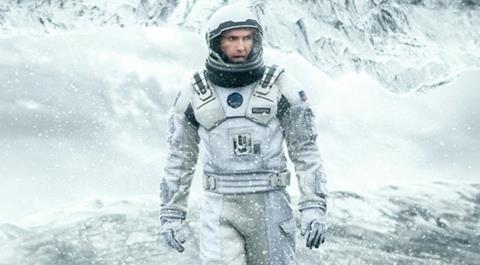 The rerelease of Christopher Nolan's Interstellar had a strong opening on Sunday, August 2 in China, grossing $2.8m in a single day, according to figures from Artisan Gateway, boding well for the release of Nolan's Tenet if it goes ahead in the territory in late August.
Nolan has a huge fan base in China where audiences have long embraced his high-concept, twisty style of story-telling. Interstellar grossed $112m (RMB779.5m) when it was first released in China in November 2014. The rerelease, which ranked third in the weekend box office chart, stands as the biggest 'single day' and 'highest opening day' gross since China reopened cinemas on July 20.
Universal's Dolittle was the top-grossing film over the three-day weekend (July 31-August 2), taking $3.3m for a cumulative total of $11.8m. It was followed by the opening of local production, The Enigma Of Arrival, which grossed $3m over three days. Directed by Song Wen, also co-founder of the FIRST International Film Festival in Xining, the dark romantic drama had been scheduled to open in China in February.
The re-release of local title Sheep Without A Shepherd, a remake of Indian hit Drishyam, came in fourth over the weekend taking $2.4m for a cume of $180.4m, including its original gross. It was followed by local animation Mr Miao, which took $1.2m for a cume of $1.5m.
Sonic The Hedgehog also opened over the three-day weekend but ranked below Mr Miao, with observers suggesting this is because parents are still reluctant to take children to cinemas or because the film has already been heavily pirated.
Chinese authorities allowed cinemas located in areas designated as low-risk for Covid-19 to reopen on July 20. Since then, just over 7,000 cinemas or around 65% of China's total have reopened, according to local press reports.
Total box office for the three-day weekend was $17.5m, a fraction of normal summer weekend figures, but reflecting the social distancing measures in place as theatres slowly reopen. According to pandemic controls, Chinese cinemas are required to keep attendance under 30% capacity for each screening, customers are not allowed to sit in adjacent seats, masks must be worn and concession stands remain closed.
Some regions also have a requirement that films cannot play for more than two hours, raising issues for titles including Tenet and Ford v Ferrari, which clock in at more than 120 minutes. In these cases, cinemas have been ordered to schedule an interval after 90 minutes, although it's unclear what kind of cleaning should take place and how long the intermission should last.
However, despite the slow start, industry observers remain cautiously optimistic about how the world's second biggest market is coming back to life: "We see the reopening of the China market to date as positive and encouraging, not only from the local perspective but for global markets generally," said Artisan Gateway's Rance Pow.
"In the coming weeks we'll see more first run films and will watch the trajectory of attendance for confirmation. A ready and compelling film supply, both local and import will be key to the speed of the market's recovery."
Openers this weekend (August 7) include Ford v Ferrari and Sam Mendes' 1917, which has Alibaba behind it as distributor. The following weekend (August 14) will see the release of Sony's Bad Boys For Life and the rerelease of Harry Potter And The Sorcerer's Stone.
Meanwhile, Huayi Brothers' long-delayed war epic The Eight Hundred has finally been given a release date and is set to open on August 21. The film had been set to open in summer 2019, but was hit by censorship problems due to its portrayal of China's Nationalist army, which lost the civil war to the Communists in 1949. It was also pulled as the opening film of last year's Shanghai International Film Festival.