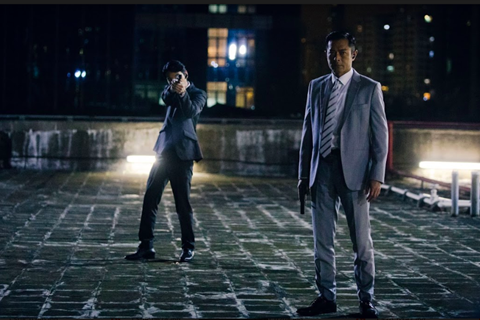 China's September box office continued its weak run despite coinciding with the first two days of the three-day Mid-Autumn festival holidays last weekend.
Last week's box office (Sep 17-23) was the fifth lowest week in 2018, although it picked up a little from the week before, with five new films entering the charts.
Hong Kong anti-corruption crime thriller L Storm, starring Louis Koo and Julian Cheung, stayed top for the second week with $23.6m for $52.8m after 10 days.
It was slightly ahead of Golden Job, another Hong Kong film, directed by action choreographer and actor Chin Ka Lok. That opened with $22.4m from its first three days, enough to top the weekend chart.
The heist comedy reunites Ekin Cheng, Jordan Chan, Michael Tse and Jerry Lamb from the popular 1990s Triad series Young And Dangerous. The new film takes them to exotic locations including Hungary, Montenegro to Japan and Taiwan. Eric Tsang is a producer.
Mission: Impossible – Fallout, starring Tom Cruise, fell to third with $12.5m for $170.5m after 24 days. It is the fourth highest grossing non-Chinese film of the year to date.
Cry Me A Sad River came in fourth with $11.1m from its first three days. The romantic drama is adapted from Tiny Times series director Guo Jingming's popular novel and directed by Luo Luo, who is also a novelist. It was originally scheduled for the busy National Day holidays.
Ash Is Purest White opened with $5.9m from its first three days, surpassing the lifetime of Mountains May Depart to become arthouse auteur Jia Zhangke's biggest film at the Chinese box office. The gangster epic, which screened in competition at Canens earlier this year, spans almost two decades, and stars Jia's muse and wife Zhao Tao alongside Liao Fan.
Chinese animation Monkey Magic launched with $3.2m (including previews) from its first two days; followed by Japanese detective mystery drama Destiny: The Tale Of Kamakura on $2.5m for $6.1m after 10 days; Eli Roth's action remake Death Wish, starring Bruce Willis, grossed $1.9m from its first three days; live action ice age adventure Alpha took $1m this week for a $16m gross after 17 days; and Disney's Ant-Man And The Wasp garnered $1m and has grossed $118.5m after 31 days.
As the Mid-Autumn festival failed to revitalise the Chinese box office, the baton is now with the upcoming week-long National Day holidays. High-profile titles such as Shadow, Project Gutenberg, Hello Mrs Money and Fat Buddies are all dated for Sep 30.