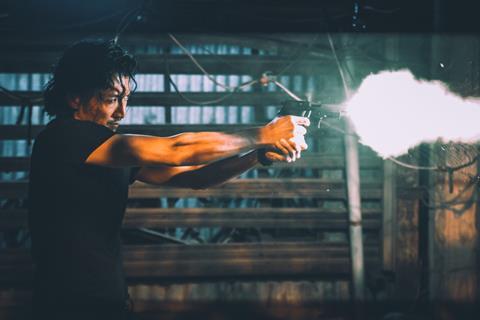 Hong Kong-China action film Raging Fire stayed atop the China box office over its second weekend (August 6-8), grossing a further $21.6m for a cumulative total of $82.8m, according to figures from theatrical consultancy Artisan Gateway.
The film is not facing much new competition as no major US studio films have been released since F9: The Fast Saga, which grossed $214m in May. Chinese regulators have still not issued release dates for films that have been released in the US, such as Black Widow, Space Jam: A New Legacy, Jungle Cruise and The Suicide Squad.
In fact, the top four films in China over the weekend were exactly the same as the previous weekend. Huayi Brothers' romantic drama Upcoming Summer, directed by Leste Chen, came in second, grossing $6.1m over the three-day weekend for a cume of $35.2m. It was followed by animated feature Green Snake, which took $5.2m for a cume of $67.5m, and patriotic drama Chinese Doctors, which grossed $2m for a cume of $197.1m.
The only new entry in the top five was a UK production A Christmas Gift From Bob, which took $1.1m in its opening weekend. China's DDDream is one of the investors in the film, directed by Charles Martin Smith, which is a sequel to 2016 production A Street Cat Named Bob.
Upcoming weeks are also not likely to see any big new releases as China is now battling an upsurge in the Delta variant of Covid-19. The China Film Administration announced last Thursday that cinemas across the country should restrict seating to 75% in low-risk areas, and close completely in areas considered medium and high-risk.
As a result of the upsurge, highly-anticipated patriotic drama The Battle At Lake Changjin, which was due for release on August 12, has been postponed to an unspecified later date. The Korean War drama is co-directed by three leading filmmakers: Chen Kaige, Tsui Hark and Dante Lam. The Beijing International Film Festival (BJIFF), which recently announced its line-up and was scheduled for August 14-21, has also been postponed to unspecified dates.