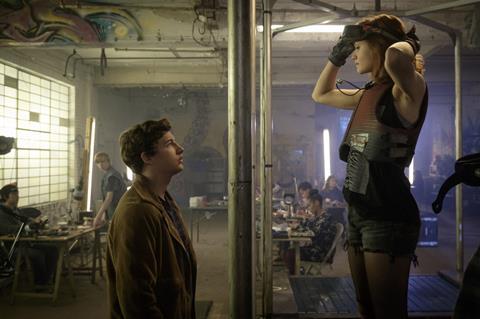 Last month became the biggest March in China's box office history, clocking up over $850m. Combined with the biggest February, the first quarter of 2018 has soared past $3.36 billion.
Unlike most territories, it wasn't an Easter holiday weekend in China. In the week of Mar 26-Apr 1, Hollywood retained its dominance as Ready Player One became the fourth consecutive US film to top the charts.
Warner Bros' sci-fi adaptation took $64.3m from its three-day opening weekend, beating the 2013 re-release of Jurassic Park in 3D to become Steven Spielberg's highest grossing film in China. It also achieved a bigger debut than North America, making China its biggest market so far.
The top three spots all went to US films. Legendary East's action sci-fi sequel Pacific Rim: Uprising dropped to second with $25.6m for $94.1m after 10 days, while Warner Bros' Tomb Raider came in third with $8.1m for $81.4m after 17 days.
Local documentary Amazing China maintained well in fourth with $7.1m for $73.4m after 31 days; ahead of Dante Lam's military action film Operation Red Sea, which added $5.8m for $600.2m after 45 days.
Peacock director Gu Changwei's latest film Nice To Meet You launched with $5.6m from its first four days; followed by Liam Neeson's action thriller The Commuter with $4.3m from its first three days.
Holdover Salman Khan's Indian hit Bajrangi Bhaijaan earned $3.1m for $47.5m after 31 days, while Russian figure skating hit Ice and local comedy Really?, starring Xiao Shenyang and Ivy Chen, made $2.2m and $1.9m respectively, both from their first three days.
No big release has been scheduled for this week. Ready Player One is expected to stay top.