Kong: Skull Island top; Logan hits $100m; negative growth last month.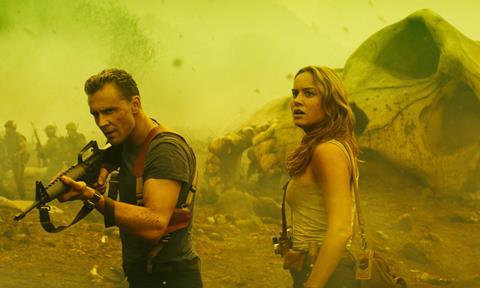 The Chinese box office continued to shrink further for the second straight month this year.
Total box office receipts of $490m (inclusive of the new online booking fees) were recorded in the month of March, which represented a drop of approximately 9% from the same month last year and 57% from February this year.
Five new films (three thrillers, one comedy and one animation) entered the weekly charts in the period of Mar 27- Apr 2, but none of them had the muscles to dethrone champion Kong: Skull Island.
Warner Bros' latest monster film stayed top with $50.36m in its second week, bringing its 10-day total to a massive $123.20m. The film has become the third hit by Legendary in nine months, after Warcraft and The Great Wall. It is now the third highest grossing foreign film and the sixth overall this year.
Chinese crime thriller The Devotion of Suspect X opened top on Friday but was overtaken by Kong on both Saturday and Sunday and settled for second place overall with $22.90m from its three-day opening weekend. The film is directed by The Left Ear's Alec Su based on the award-winning Japanese novel by Keigo Higashino. The popular book has been adapted separately into a Japanese and a Korean film; this Chinese version stars Wang Kai, Zhang Luyi and Ruby Lin.
In third place, Chinese action crime thriller Extraordinary Mission opened with $8.53m from its first three days. The film boasts a strong creative team from Hong Kong, with Alan Mak (Infernal Affairs) co-directing with DoP-turned director Anthony Pun and Felix Chong (Overheard series) penning the script. The mainland cast includes Huang Xuan and Duan Yihong.
Disney's Beauty And The Beast dropped to fourth with $7.00m for $82.73m after 17 days; ahead of Xu Jinglei's Chinese thriller The Missing, starring Bai Baihe and Stanley Huang, which opened with $6.41m from its first three days.
Local comedy Top Funny Comedian: The Movie added $2.44m from $9.56m after 10 days, while A Dog's Purpose earned $2.27m for $86.67m after 31 days.
Another two new films followed: local comedy You Wan Mei Wan on $2.13m and French-Canadian animation Snowtime! on $1.63m, both from their first two days.
Fox's Logan took $0.73m for $105.73m after 31 days, making it the eighth highest grossing film overall this year.
Coming up, Ghost In The Shell is scheduled for Apr 7, along with McDull: Pork Of Music, Mad World and Weeds On Fire.
Read more:
The 24 hottest projects at this year's Hong Kong Filmart