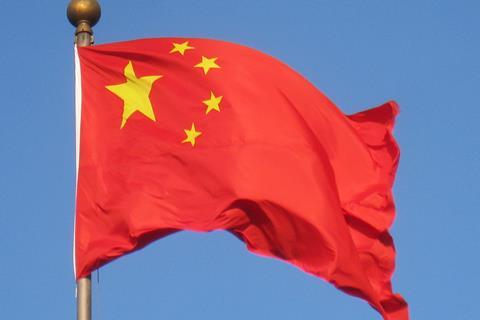 The adoption of streaming sites in home entertainment spend by Chinese consumers is significantly ahead of the international market and by 2022 will reach around $8.3bn, nearly three times as much as the next highest country.
The discrepancies in digital transition were among a number of trends highlighted by Dan Cryan, IHS Markit executive director, media and content, in a presentation at the Los Angeles Entertainment Summit in Hollywood on Tuesday.
Cryan noted how China is the only country where consumer home entertainment spend is already almost entirely digital and outstrips closest rival Japan, where packaged goods continues to account for a large portion of consumer outlay (see Chart 1).
China finished a little over $3bn in 2017, followed by Japan on just under $3bn, and the UK around the $2bn mark. In four years' time China is forecast to leave other countries in the dust and reach approximately $8.3bn. The UK in second place will hit a little over $3bn – which China reached last year – while Japan will drop to around $2.3bn as the DVD market continues to decline and digital takes time to make up the shortfall.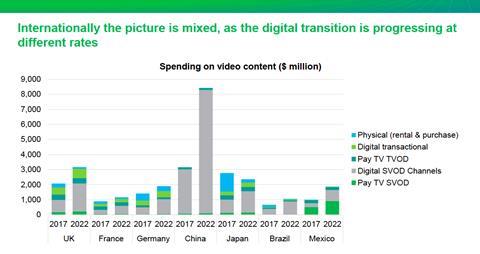 Cryan also noted how Netflix will continue to lead the international subscription market, although regional companies, especially in Asia, are growing in strength. (See chart 2).
The significant rise in streaming services in the US was highlights by Cryan, who said the combination of more traditional home entertainment platforms and streaming channels are set this year to overtake peak home entertainment spend in 2006 – when streaming was non-existent.
Indeed streaming now accounts for more than half of home entertainment revenues. US consumers spent close to $25bn on content excluding pay-TV packages in 2006, and according to IHS Markit data that number will cross $25bn for the first time this year. The US home entertainment and streaming market is on course to reach $30bn by 2021.
Netflix and Amazon Studios will continue to dominate US online subscription channels through 2021. The titans have claimed the lion's share of customers and are currently close to a combined 90m in the US and are forecast to finish 2022 on close to 120m.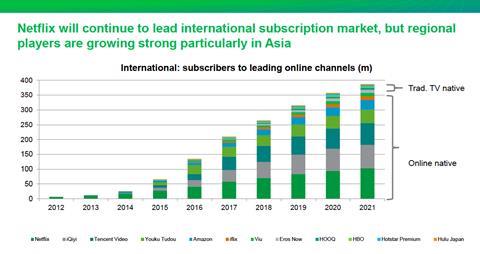 Hulu and YouTube Premium are making significant gains and charted to remain on upwards curves, as are HBO, CrunchyRoll, CBS All Access, Showtime and Starz. The whole class falls a little short of 130m and is on track to combine for more than 170m by 2022.
The same trend appears true in most European markets, added Cryan. In the UK, steaming sites have grown as a component of home entertainment spend and levels in 2018 are set to reach approximately $3.7bn (£2.8bn), excluding pay-TV packages. This is roughly on par with 2007 and 2008, when DVD purchases accounted for the bulk of home entertainment consumer spend, although it is not yet at the level of 2004, when spend reached approximately $4.3bn (£3.25bn).
In Germany, 2018 is on course to reach more than $2.7bn (€2.3bn), way more than the last 14 years, which continues an upward trend. Again, numbers exclude pay-TV packages.
Cryan also noted that EST (electronic sell-through) growth in the US is forecast to come mostly from film, not TV, sales. 2018 levels of roughly $2.2bn comprise more than two-thirds film sales and by 2022 the level is forecast to rise to a little over $2.4bn, with film accounting for close to four-fifths of the share.
In international markets, EST in the UK reached a little over $150m in 2017. By 2022 the number is expected to climb to more than $250m.
The presentation also revealed that the current generation of VR headsets is set to peak in 2020 and indeed some are already in decline. VR entertainment revenue will continue to be driven primarily by games, while video will take longer to catch up due to creative and technical / pipeline reasons.
Cryan also said that traditional TV advertising revenue hit its peak in 2016 and that is now in decline. Legacy TV companies claimed the bulk of advertising share as recently in 2014, yet by 2023 legacy TV will account for roughly three-quarters as those companies struggle to recoup online in the face of the digital titans like Google, Facebook, YouTube, and Amazon.
The Los Angeles Entertainment Summit is organised by the Entertainment Merchants Association.