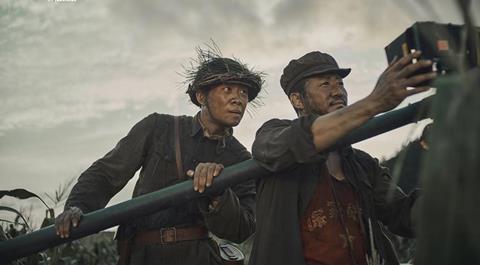 Chinese box office for the year to date has overtaken that of North America.
The two markets stand at $2.201bn and $2.137bn, according to Artisan Gateway and ComScore, respectively, after local war film Sacrifice led the charts in China on $28.6m.
That compares to the $3.2m number one debut of Focus Features/Amblin's Come Play in North America, where box office is generating in the region of $10m-12m each weekend.
As of Monday (November 2) North American box office trailed ticket sales by the same stage of 2019 by 76.9%.
North America delivered $11.4bn at the box office in calendar year 2019, and China produced $9.2bn.
China has been expected to overtake North America at the box office for some years, however its current status in a pandemic year that has ravaged theatrical sectors across the world may not indicate a permanent power shift – or at least not yet.
Both countries have struggled with cinema closures, however China got sites back up and running ahead of the US, where most markets have reopened open except for the key areas of New York and Los Angeles.
Chinese cinemas were recently allowed to operate at a maximum of 75% capacity, whereas cinemas in North America have been reduced to a maximum of 50% capacity.
With two months of the year to go, films scheduled for release during China's year-end peak box office season include fantasy thriller The Yin-Yang Master: Dream Of Eternity, the first part of Guo Jingming's two-parter based on Japanese novel Onmyoji, and Herman Yau's Shock Wave 2 starring Lau Ching-wan and Andy Lau.
The North American schedule features one major tentpole – Wonder Woman 1984 on December 25, which Warner Bros is likely to push into 2021 imminently if cinemas in New York and Los Angeles look like staying closed for the foreseeable future.
Besides the superhero sequel there is 20th Century Pictures action comedy Free Guy with Ryan Reynolds on December 11 and Kenneth Branagh's whodunnit Death On The Nile on December 18, followed by the December 25 release of Universal's News Of The World, which reunites Tom Hanks with his Captain Phillips director Paul Greengrass.
The early 2021 outlook for China features a heavyweight Chinese New Year in February with Detective Chinatown 3 and The Rescue, which were both initially scheduled for Chinese New Year 2020 before cinemas closed.
The roster continues with Light Chaser Animation's New Gods: Nezha Reborn, which like Jiang Ziya is based on Chinese myth The Investiture Of The Gods; and Lu Yang's fantasy thriller Assassin In Red.
The release schedule for North America in early 2021 includes Sony's Peter Rabbit 2: The Runaway and female-led spy thriller The 355 via Universal on January 15; and 20th Century Studios' The King's Man on February 12.