UPDATED MARCH 16: International bow for Disney's live-action remake included the largest ever March opening in China; Universal's Fifty Shades of Grey becomes distributor's tenth highest-grossing film worldwide at $546.5m.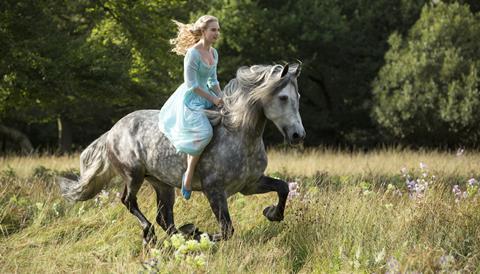 WALT DISNEY STUDIOS MOTION PICTURES INTERNATIONAL
Landing day-and-date with its domestic bow in 31 territories, Cinderella bowed overseas with $62.4m to lead the international market.
The opening saw the live-action remake set the record for highest grossing March opening weekend in China at $25m, with it also performing well elsewhere across Asia where it landed top in the likes of Hong Kong, Indonesia and Thailand, among others.
Its second highest opening this weekend came in Russia with a $7.3m debut in line with Maleficent and Oz the Great and Powerful.
Cinderella posted chart-topping debuts in all of the five Latin American markets it opened this weekend, led by $5m in Mexico, and it landed at number one in 12 of its 19 European territories, with Italy the strongest at $4.6m.
IMAX provided over $4m of its overall international weekend total from 295 screens, delivering a global IMAX opening of over $9m to break the record for a 2D family film, set by the $4.64m for Night at the Museum 2.
Next weekend, it waltzes into 14 new territories, including Korea, Netherlands, Portugal, Argentina and Chile.
Saturday [March 14] saw Big Hero 6 become the highest grossing animated release of 2014 worldwide, with the overall weekend seeing it reach $632.8m of which $411.1m has come from its overseas markets.
Its second weekend in China saw it fall just 15% to add $15.5m for $66.5m after sixteen days in play, making it the third biggest animation release ever in the territory as well as the highest-grossing non-sequel animated film.
FOX INTERNATIONAL
Kingsman: The Secret Service is still going strong overseas, earning $13.6m from its 70 markets for $169.8m to date.
It recorded just a 23% drop in its fifth weekend of release in South Korea to add $3.3m for $36.4m to date, the leading overseas market for the spy adaptation. Germany recorded a chart-topping $2.2m from 629 screens, as France took an extra $977k for $9.8m to date.
Holding the top spot for the third straight week in the UK with $2.1m for a local tally of $17.7m to date, The Second Best Exotic Marigold Hotel has now checked into $29.1m internationally from its 17 markets.
Russia led the new openers with $193k, while the sequel has now amassed $8.9m and $1.7m in Australia and New Zealand, respectively.
Oscar winner Birdman posted a $1.9m weekend in its 46 markets for $56.2m to date.
SONY PICTURES RELEASING INTERNATIONAL
In its second weekend of overseas release, Chappie took a further $13.6m from its 68 markets for an early $33.4m.
Collectively, its new openers grossed $6.8m from 15 markets with south Korea leading the way with $2.8m, while Russia was the best of the holdovers as it added $1.5m fr $5.5m to date.
The sci-fi's next major openings come in Italy (April 9), Brazil (April 16) and Japan (May 23).
WARNER BROS PICTURES INTERNATIONAL
Focus is up to $58.1m overseas following a $13.8m weekend in its 61 markets, propelled by a $1.7m chart-topping debut in Brazil from 625 screens.
Mexico led the holdover markets with a $1.7m second weekend for $5.3m, followed by Italy with $1.4m for $4m and Australia and the UK both grossing $1.3m for local tallies of $4.2m and $8.7m, respectively.
The con artist drama opens in France on March 25 and Spain on March 27.
Jupiter Ascending continued to soar in China as it posted an $8m second weekend for $40.5m to date. Overall, the sci-fi took $8.8m from its 37 markets to raise its overseas tally to $125.3m ahead of its release in Japan on March 28.
Currently played in 57 markets, American Sniper shot to an additional $8.3m for $176m so far. France held the top spot for a fourth straight weekend with $1.7m and has now taken $19.4m, as Germany added $1.4m for $8.8m after three weeks in play.
Action thriller Run All Night opened in 19 international markets day-and-date with its domestic bow, delivering $7.5m from 1,945 screens.
The UK led the way as it charted second with $1.3m from 544 screens, while France provided $1.2m (including previews) and the UAE grossed $758k from 38 screens. It lands in Australia and Korea next weekend.
UNIVERSAL PICTURES INTERNATIONAL
Fifty Shades of Grey is now Universal's tenth highest-grossing film worldwide having surpassed Despicable Me's global tally of $544m.
The raunchy adaptation enjoyed an $8.4m weekend in its 60 territories for an international total of $385.2m. Monday will see it pass The Lost World's overseas result of $385.9m to become the distributor's sixth highest-grossing film internationally.
Its final theatrical release in Egypt resulted in a $26k debut from seven dates.
Legendary's Seventh Son, which Universal is releasing worldwide (excluding China), is up to $65.6m following a $1.8m weekend in 14 territories. The action fantasy charted second in Brzil with an $925k debut, ahead of its final two openings in Israel (March 26) and the UK (March 27).
Including China, Seventh Son has amassed $91.1m overseas.
With a $315k opening in Japan from 65 dates, The Theory of Everything grossed $1.5m from its 53 territories for $81.6m to date, while local comedy drama sequel Dukhless 2 posted a $1.5m second weekend in Russia for an 11-day total of $6.8m.
ASIA UPDATE
Wong Jing's From Vegas To Macau II with Chow Yun Fat added $5m from its four territories for $150m, while Jean-Jacques Annaud's Mongolia-set Chinese-French co-production Wolf Totem earned $4.5m from three for $106.5m.
Crime thriller The Deal opened with an estimated $3.9m in South Korea.
PARAMOUNT PICTURES INTERNATIONAL
With no new openings this weekend, The SpongeBob Movie: Sponge Out of Water made $4.3m from its 49 territories to lift the overseas tally to $116.2m.
Germany has made $10m after four weeks in play, while France and Italy are up to $7.7m and $4.9m, respectively. The animated sequel splashes into the UK on March 27 and into Australia on April 2.
Time travel thriller Project Almanac has grossed $9.9m overseas and opens in South Africa on April 17.