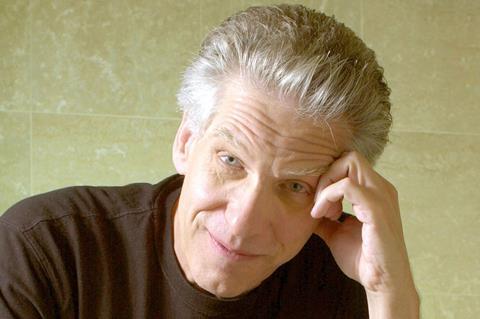 David Cronenberg, the director of Crash and Naked Lunch, delivered a damning verdict on the medium of cinema at the Neuchatel International Fantasy Film Festival in Switzerland, an event he is attending as member of the international jury.
"I don't go to the cinema any more. [in Neuchâtel] I've seen more movies than I've seen in the last five years. [The jury] are seeing 16 films. I don't think I've been to the cinema 16 times in the last five years. In that sense, for me, that cinema is already dead," the Canadian director told Screen.
"However, filmmaking is not dead. Image-making is not dead. Cinema becomes something else. It is no longer the cathedral that you go to where you commune with many other people."
Instead Cronenberg is now a firm champion of Netflix. "[Netflix] have their algorithms and I know they've taken some stick for that," he continued. "People have tried to suggest the algorithms are used to decide which things to green light or not but I've talked to Netflix people. They say - and I believe them - that this is absolutely not true. They can make different suggestions to different members of the same family in the same house. They know who's watching. But when it comes to saying yes or no to a series or a movie, it's a face to face human interaction, not an algorithm."
The director has not yet worked with the US streaming giant but revealed he hopes to make a high-end TV drama series soon.
"I am thinking seriously about it. I have some things that I want to say," he said.
In Neuchâtel, the director programmed several of his favourite movies, including Freaks, Hour Of The Wolf and The Incredible Shrinking Man for the event's 'Carte Blanche' programme.
Cronenberg also took part in a Q&A on the subject of 'How literature has consumed the work of David Cronenberg' where he talked about his love of the work of William Burroughs and Vladimir Nabokov.
He compared a Netflix series to a novel.
"I started to think maybe the cinematic equivalent of the novel is really a Netflix series that maybe goes on for five years or seven years," he said on stage. " Really, this is a new art form. It's not like old television series. I am seeing some series I thought were really quite brilliant, like Tom Tykwer's Babylon Berlin. Fantastic - and like a novel. I thought maybe the cinema as we know it is really writing a short story but if you want write a novel, then you have to do a series. I started to think maybe I am not finished with the cinema exactly if we think of the cinema as it is evolving…it is possible that instead of writing a novel, I would do a series for Netflix."
Cronenberg's debut novel 'Consumed' has been optioned and is set to be turned into a series by AMC. But Cronenberg himself won't be directly involved. "I made it clear that I did not want to write the series version of my novel," he said. "I would maybe be an executive producer or something."