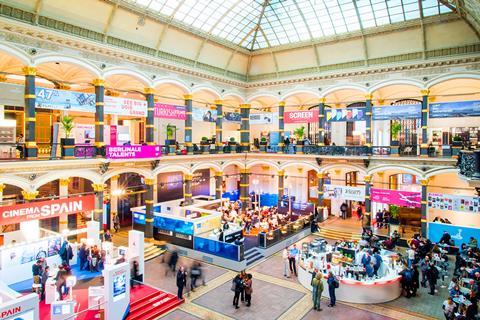 On the back of a rousing 2018 that delivered an Oscar-nomination for the animated feature Loving Vincent as well as a sales slate of four animations and four live-action films, Los Angeles-based Cinema Management Group (CMG) has hired Lydia Ianni as head of acquisitions and operations.
Prior to joining CMG, Ianni served as manager of acquisitions at Cohen Media Group for more than five years. Reporting to CMG founder and president Edward Noeltner, she will be on the ground at Sundance next month ahead of the EFM (pictured) in Berlin.
"After being impressed by Lydia's work consulting for the company over the past months, we are thrilled to have her joining CMG on a full-time basis effective immediately," said Noeltner.
The CMG chief also announced that Jonathan DuBow has been promoted to senior sales executive. "Jonathan had a fabulous AFM in terms of sales and has shown over the past two years that he has a real talent for communicating with our clients," said Noeltner.
DuBow will attend the EFM and lead the company's presence at Filmart in Hong Kong in addition to attending the remainder of the festivals and markets on the circuit. Prior to CMG, he worked at Alchemy as operations coordinator, administrative Assistant at Millennium Entertainment, and assistant of international TV sales at Lionsgate.
Brianna Matthews, a recent arrival from Highland Film Group where she served as accounts receivable manager for nearly two years, has been promoted to senior business affairs executive. Noeltner said Matthews played an "instrumental" role in the closing process of the production loan for the Peruvian animation Ainbo: Spirit Of The Amazon, which has pre-sold to 23 territories.
"Since joining the company in April as Accounts Manager, Brianna has shown what a smart and talented executive she is so it was only normal that we found a more appropriate title for her going forward as well as entrusting her with more responsibilities," said Noeltner.