President of Fox International addresses challenges, notes theatrical box office "continues to drive the train."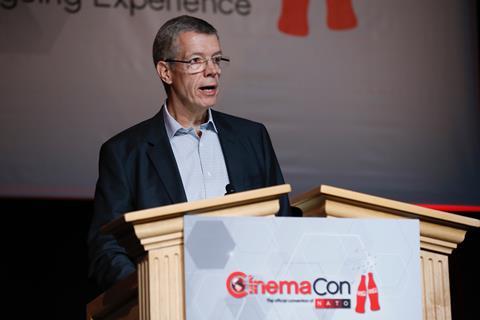 Andrew Cripps delivered a positive forecast for the theatrical business in keeping with the traditional tone of CinemaCon's Monday opening keynote, while urging greater collaboration between distributors and theatre owners.
"Audiences are changing and they're harder to connect with through traditional means. Films are more expensive than ever… marketing costs only seem to go in one direction – up," the President of Fox International said, adding that piracy and the growing proliferation of entertainment choices presented challenges.
The executive said he expected consolidation to continue, highlighted the need to offer enhanced theatre-going experiences, and urged the industry to grapple with and share data.
"If we can collaborate… to improve the customer engagement, then that has to be a good thing," Cripps told attendees at Caesars Palace in Las Vegas.
"We live in interesting times. The movie business is alive and well… theatrical box office is more important than ever in the life of a movie and continues to drive the train."

The executive, who delivered a keynote address at the convention in 2011 when he was president of Paramount Pictures International, reiterated the $38.6bn box office of 2016 announced in last week's annual report released by the Motion Picture Association Of America.
Addressing the flat $27.2bn international figure resulting from the stronger dollar, Cripps said: "Rightly or wrongly, we are an industry measured in US dollars."
He noted that the Asia-Pacific region generated $8.3bn in 2016 excluding China, which dropped from $6.8bn in 2015 to $6.6bn, and said the region "has been and will continue to be for the foreseeable future" the top driver of global box office.
The International Day Awards Lunch presented the following awards: The Comscore International Box Office Achievement Award to The Walt Disney Studios; CinemaCon Passepartout Award to Mark Christiansen, executive vice-president of worldwide operations at Paramount Picture; Global Achievement Award In Exhibition to Cameron Mitchell, CEO of VOX Cinemas; and International Filmmakers Of The Year to Joachim Ronning and Espen Sandberg, Pirates Of The Caribbean: Dead Men Tell No Tales.
Photo credit: Ryan Miller Capture Imaging for CinemaCon