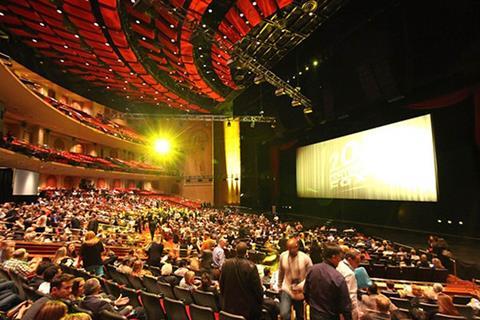 Tim Richards, the founder and CEO of European circuit Vue International who wrote an open letter to Bafta recently protesting the inclusion of ROMA in its film awards, told a CinemaCon panel on Monday (April 1), "I don't look at Netflix as the enemy at all."
"Our hope is we're going to bring them into the theatres," Richards said of films made by the streaming platform during a session at Caesars Palace titled 'The Times They Are (Rapidly) A Changin' – Don't Get Lost In The Shuffle'. "These are massive content producers and a lot of that is going to be in feature film as well. What we're hoping is that they will see that respecting the theatrical window and releasing on our screens does not affect their subscription base. It's incremental and helpful."
Richards echoed the sentiments of a heavyweight roster of exhibition chiefs at the broad-ranging international day seminar, all of whom said they were bullish about the prospects for their businesses at a time when content is proliferating.
Yet beyond the expected statements about the need to upgrade and offer the best theatre-going experience possible, thoughts inevitably turned towards how to engage with the streaming platforms, a subject that has become more urgent than ever with planned launches later this year by Apple and WarnerMedia, and NBCUniversal in 2020.
Jérôme Seydoux, chairman and CEO of Les Cinemas Pathé Gaumont, noted: "You can be hopeful and say one day Netflix will understand that if they want to produce movies they have to go out in theatres first. That will happen. You can't produce movies of high calibre with great directors without showing them in theatres. We should resist strongly that if movies are not going into theatres they're not movies as Steven Spielberg has said – they're TV products."
"I completely agree with Jerome," said Richards, before returning to the subject of Bafta and the letter he sent in February to the body, in which he took Bafta to task for allowing a "made for TV movie that audiences were unable to see on a big screen" to be eligible for its awards.
"I wrote that letter out of frustration and it was difficult because I'm a massive fan of Alfonso Cuaron. In that particular case, looking at what Bafta did they were in contravention of their own rules, and their rules say in order to be a movie it had to have a wide theatrical release. It also said if a movie was solely released to get an award that would disqualify it from the Baftas."
"We're living in a time of huge disruption so we have to have a very strong and continuous communication with the studios," said Alejandro Ramírez Magaña, director general of Mexican giant Cinépolis.
Subscription plans
Asked about theatrical subscription plans, Seydoux noted that Pathé's Cinepass accounted for roughly 25% of tickets sold, adding: "I don't think it's a bad business. It cannot become too big because then your average price is too low." When pressed by moderator Anne Fitzgerald of Cineplex Entertainment on how many times subscribers use the pass, Seydoux declined to give exact numbers, but said average annual visits were in the 30-40 range.
The panellists touched on data. Cameron Mitchell, CEO of Dubai-based regional exhibitor and distributor Vox Cinemas, said the company was using facial recognition software to better identify and target customers who attend and do not attend screenings. Vox plans to grow its footprint in the Middle East to the tune of $600m over the next three to four years and, Mitchell hinted, will explore production.
Irving Chee, general manager of Malaysia's Golden Screen Cinemas, said: "We have an opportunity in Malaysia and southeast Asia. E-wallets are coming in and we're trying to do cross-promotions with them."
Participants spoke positively about the opportunities to boost revenues with local-content – Chee said early results from cross-promoting films from neighbouring Asian countries had been encouraging, while Magaña said local productions meant local talent would be available to promote films and cited the example of Eugenio Derbez's tireless work on Mexican smash Instructions Not Included.
Richards noted the disappearance of costly Virtual Print Fees (the subsidy paid by distributors toward the digital equipping of cinemas) would make it easier for independent filmmakers to get their work shown on screens. "That potentially is going to be huge," he said, "because they have not had the benefit of the digital revolution."