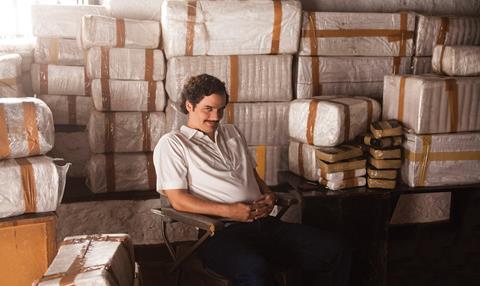 Netflix's local language production efforts on shows like Narcos and Dark have whetted audience appetites at a time when non-English-language fare offers opportunities for the theatrical business, CinemaCon attendees heard on Monday (April 1).
"What Netflix has done in terms of streaming and local content around the world, seeing that travel and become popular elsewhere, starting with Narcos… [means] Netflix audiences are getting used to watching international content," Pantelion Films CEO Paul Presburger said during a panel titled 'Don't Turn A Blind Eye On Local Content And Productions'.
Presburger suggested that Netflix subscribers' growing familiarity with content that was not in their native tongue was something that boded well for producers, distributors and exhibitors of local theatrical content.
However establishing a thriving local production economy requires a change in attitude from passive to active, noted Cinépolis COO Miguel Mier. "Putting more attention on local production might create a switch in mindset in terms of local production away from expecting a magical outlier, to going out there and making it happen; a conscious effort to develop a strategy around it. Maybe not one blockbuster, but a slate which could make our industry stronger given that studios are making fewer titles."
Universal stories can drive profitable business
Meir continued, "If you make a universal heartfelt story with the proper talent and budget for a market you can make a profitable business. The gravy for us exhibitors would be you can create the marketing campaigns with the talent you have and gain visibility and boost the star system in a way your brand resonates more with the local audiences."
Presburger returned to the benefits of streamers. When Pantelion launched the Spanish-language streaming service Pantaya in 2017, he saw a synergy between the worlds of digital and bricks and mortar. "Streamers are important for us in Latin America because they're our Pay One window," he said. "You need that… It's about theatrical becoming a huge marketing vehicle for our streaming services… Working together [with streamers] is the key… Those streamers are really important to our business model."
FilmNation founder and CEO Glen Basner kicked off the session with a keynote in which he recounted his early days at Good Machine and its subsequent iteration Focus Features, when he cut his teeth working on international hits like Crouching Tiger, Hidden Dragon and Y Tu Mama Tambien.
The executive launched FilmNation 10 years ago "with the international market in mind." International sales was the prime focus and FilmNation scored notable hits with the likes of The King's Speech and The Imitation Game. While the company is now also an active producer and financier, the international flavour remains strong.
'Many of the films we make come from outside the United States'
"Many of the films we now make come from outside the United States," said Basner. "Last year three of the five productions originated and shot outside the United States: The Nest, Ironbark, and David Copperfield."
A key plank of FilmNation's strategy is to approach non-US films as if they can travel outside their territory. Basner cited the case of Pedro Almodóvar, whose films he sells internationally. They typically open first in Spain, and continue to roll out around the world for nine months.
Almodóvar's latest film and likely Cannes selection Dolor Y Gloria (Pain & Glory) opened in Spain on $1.4m a little over a week ago and goes out in Latin America and Australia through Universal, France and the UK through Pathé, and Germany via Studiocanal.
Other examples of films that have struck a chord with international audiences include 2016 Chinese smash The Mermaid, which made most of its money in China and grossed more than $8m in Hong Kong, and also prospered in Malaysia, Singapore, and the UK. Last year's Japanese Palme d'Or winner Shoplifters grossed $76m internationally including $14m in China.
Pantelion's 2013 Spanish- and English-language comedy Instructions Not Included did so well – earning $44.5m in North America and $99.1m worldwide – that it has inspired remakes in a number of countries including India and South Korea, while Lionsgate is developing an English-language version.
Presburger pointed out that Panetelion Films, which launched as joint venture between Lionsgate and Mexico's Televisa, is also part of Globagate, a consortium of companies including Gaumont in France, Nordisk in Scandinavia and Kadokawa in Japan. Members offer each other first look on remake opportunities for their local films.
Understanding cultural identity is critical
Understanding cultural identity and local storytelling sensibilities is critical and one should never assume a piece of content will travel, noted Ray Strache, whose role as executive vice-president of global acquisitions and co-productions straddles Twentieth Century Fox and Fox Searchlight.
The studio is developing an original Mexican story and concurrently adapting it for the South Korean market, fully aware that plot points will change to register with audiences in each territory.
Cinépolis' Meir said the company was able to adapt 2009 Bollywood hit 3 Idiots into 3 Idiotas because of the universality of the story about friends who set out to find a college roommate who dropped off the map. The film came out in 2017 and was a hit. "It's a combination of taking a risk, betting on the talent, and trying to put the stars around a story you feel passionate about."
Working with local-language filmmakers can serve as a talent incubator, said Basner, who added that local titles are generally able to take advantage of local talent availability for prolonged promotional duties.