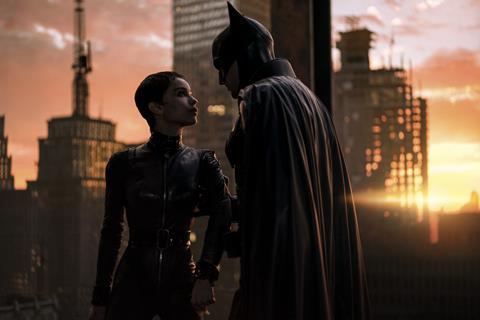 Exhibition executives and producers called for more family films and extolled the virtues of local content and data in Monday's (April 25) broadly optimistic CinemaCon opening day panels, marking the event's proper return since pre-pandemic 2019.
Piracy was another issue that rose to the fore in sessions that trumpeted theatrical distribution and exhibition as attendees gathered at Caesars Palace in Las Vegas. (CinemaCon was cancelled in 2020 and there was a truncated event in August 2021.)
Warner Bros president of international theatrical distribution Andrew Cripps noted how piracy was "rampant" in Russia and China and said he had seen photographs of The Batman being advertised in Russian theatre lobbies even though the studio had not supplied the tentpole to the market due to the ongoing war with Ukraine.
"The moment those digital copies are available is when you see that proliferation around the world," said Cripps. The Batman, which has grossed $759.2m worldwide and $391.5m internationally, has been available on HBO Max for a week. Cripps said the studio's anti-piracy group continued to work closely with exhibitors. "You do what you can but it's a challenge."
"More family films please"
Speaking on a panel called 'Blockbusters or Bust?' Steve Knibbs, the COO of Vue International who was stepping in for CEO Tim Richards, said there was a "hugely positive rebound". He declared, "More family films please. It's my number one ask… particularly for later in the summer because that audience has shown it wants to come and see [good films] and will return again and again."
Knibbs acknowledged the importance of well documented recent hits like Spider-Man: No Way Home, The Batman and No Time To Die but added that the notion that the focus was entirely on blockbusters "couldn't be further from the truth" as Vue recognised the value in programming diverse content. "We have a very specific way we book and show content," he said. "We have a huge long tail of films that have played for weeks and months. We have slots for them in out schedules…. A lot of our six, seven, eight-screen cinemas regularly show 50% more than other people because we target carefully."
Data is key and enables exhibitors to target customers, the panel heard. Knibbs said the amount of data use in exhibition has grown "exponentially", adding: "The reliance of people just seeing something and being excited by it has become much more sophisticated and target." German producer and Constantin chairman Martin Moszkowicz agreed and urged greater data sharing which he said would be for the overall benefit of the industry. Moszkowicz also reminded the panel at Caesars Palace in Las Vegas of the might of local productions and cited the Bavarian smash Eberhofer, which has produced seven instalments (the eighth is in the works) which he said regularly outpaced James Bond box office in Bavaria.
Illustrating the global appeal of stories with universal themes, Moszkowicz pointed out the three films in the Fack Ju Gohte comedy franchise have grossed more than $200m in Germany, and said The Perfect Secret has been remade 42 times around the world.
Knibbs also spoke about the ongoing challenges in Italy where the pandemic has been longer and more traumatic than in other European markets. "I fully expect the Italian market to recover," he said. "I just think it's going to be a shallower curve."
French media chronology
An earlier session on French media chronology moderated by Laura Houlgatte, CEO of European cinema trade associations body UNIC (International Union of Cinemas) with Richard Patry, CEO of French Theater Owners Association, recapped this year's landmark three-year agreement whereby streaming platforms can debut films on platforms 15 to 17 months after the four-month exclusive theatrical window, two months on DVD and VoD, and nine months on the pay-TV Canal+ window.
Prior to the agreement the streaming window in France kicked in three years after theatrical release. Netflix is a party to the agreement and has secured a 15-month window in return for committing to invest €190m ($215m) a year in French film and TV content which will see it co-finance 10-20 French films a year. Patry said he hoped to see agreements with other streaming platforms in France.
The panel 'International Filmmaker Roundtable' with Cripps, Dune producer and Legendary Entertainment chairman of worldwide production Mary Parent and Dune director Denis Villeneuve (who was beamed in from Budapest where he is in pre-production on autumn 2023 release Dune Part 2), reinforced the importance of the big screen and "eventising" anticipated tentpoles.
The session addressed ongoing difficulties in Russia and China, where access remains a challenge with some 57% of cinemas remain closed during the pandemic. The panellists remained hopeful that releasing Hollywood films would eventually return in time.
Latest figures provided by moderator Nancy Tartaglione put year-to-date global box office through Apr 24 at $6.67bn for a 54% rise on 2021 by the same stage. International accounts for some $5.01bn of that amount and a 26% gain. Referencing strong Easter box office for the likes of Fantastic Beasts: The Secrets Of Dumbledore, The Batman, The Bad Guys, Sonic 2 Cripps said. "It's great to see diversity of content and films making money," and advised that the proof of a robust recovery on a par with 2018, 2019 levels would take "a little while".
The executive cited the Middle East and Latin America as promising growth areas while South Korea was proving difficult as audiences stay away. Cripps looked ahead to a diverse summer slate that will get people returning to cinemas "on a regular basis".
Parent spoke of the challenges of in-demand sound stages and post-production facilities, supply chain issues and a 20-25% budget increase due to the pandemic.
Monday's international day began with a bullish keynote from Cinepolis CEO Alejandro Ramirez Magaña who noted that despite a 42% growth in global streaming subscriptions in the last two years from 900m to 1.3bn theatrical distribution remained strong.
"We will be back because we have survived all sorts of calamities throughout history from pandemics to world wars to financial crises," said Magaña. "We have always prevailed… We will be back because watching a movie in a cinema is one of the most remarkable experiences of modern times." He urged exhibitors to use personalised marketing and continue to innovate.
Speaking on piracy he said, "The day-and-date model is a recipe for parasitic consumption and lost income… the main beneficiaries from the day-and-date model are the pirates."
On the pandemic he added, "We were very frustrated with the ways most governments handled the pandemic… The insistence of the authorities to declare cinemas the same risk level and restaurants and bars despite evidence to the contrary."