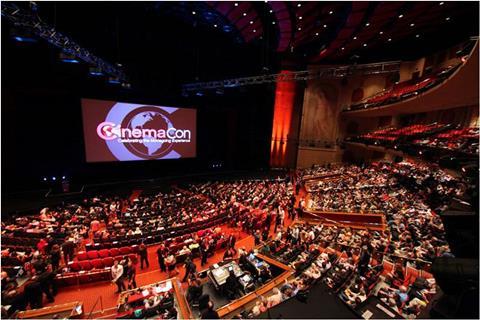 CinemaCon organisers sent out a note on Thursday (March 5) saying "an important and successful convention" will go ahead as planned despite cancellations from attendees from coronavirus-hit China, Japan, South Korea, and Italy.
In a memo to members and CinemaCon participants, National Association of Theatre Owners (NATO) chief John Fithian and CinemaCon chief Mitch Neuhauser said as of Thursday presentations were still on the agenda from Focus Features, Lionsgate, Neon, Paramount, Universal (presentation and screening), Disney and Warner Bros. Pictures (presentation and screening).
They said they remained committed to the March 30-April 2 event in Las Vegas, adding safety and productivity of attendees remained the highest priority.
"We continue to closely monitor the Coronavirus situation and maintain daily communication with the CDC, Caesars Palace, the Las Vegas Convention and Visitors Authority, American Society of Association Executives, and others to ensure safety practices are updated and implemented as appropriate for our guests," the note said. "As of today, the CDC maintains the risk for the majority of the public remains low."
Additional health and sanitation measures include: extra hand sanitisers available throughout show venue Caesars Palace; increased staff hygiene protocol; on-site medical personnel; and additional rubbish bins.
The show is also working to reduce crowding for events, in particular at functions where food will be served. Scheduled lunches on Tuesday and Wednesday have been relocated to spaces offering more seating, more staff will wear gloves, and wherever possible individually wrapped bags will replace open bowls.
Under the banner "CinemaCon 2020 Will be a Strong Show", the note said the CinemaCon team had recently returned from "a successful week of planning meetings in Las Vegas with both Caesars Palace and all of our participating studios" and said besides the countries that had cancelled, registration numbers were consistent with where they were at the same stage last year.
The note ended, "NATO and CinemaCon have every expectation of a successful and well-attended CinemaCon 2020 celebrating the moviegoing experience."
Earlier in the day NATO issued a response to Wednesday's postponement of James Bond action thriller No Time To Die in which it said: "The movie business is simultaneously global and local. All theatres in the U.S. and Canada and the vast majority of movie theaters around the world remain open with strong ticket sales.

"The decision to delay the release of the James Bond movie No Time to Die is very unique to that company and that movie. Conversations with other movie distributors confirm that a strong slate of global and local titles will continue to be released theatrically in all territories except those few countries most affected by the virus. Cinemas will remain open around the world with strong attendance, in line with local conditions, and in communication with local health officials."
The CinemaCon line is in contrast to other developments at US-based media events. Top corporate participants continue to drop out of SXSW, which is scheduled to kick off next week in Austin, Texas and will miss Netflix, Apple, Amazon Studios, WarnerMedia, Facebook, Twitter, TikTok, Mashable, and Intel.
On Wednesday it emerged Los Angeles-based mega agency CAA was imposing flight travel restrictions on staff and moving towards teleconferencing in lieu of travel while it continued to monitor the impact of coronavirus. US-based developer conferences Google I/O and Facebook's F8 have been cancalled, while GDC has been postponed.