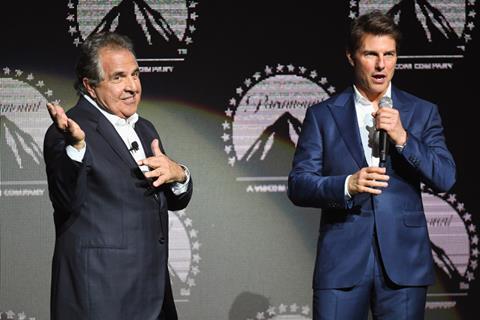 Paramount Pictures chairman and CEO Jim Gianopulos announced to CinemaCon on Wednesday (April 25) that a sequel to horror smash A Quiet Place was in the works and assured attendees he would take the studio to "new heights" in a buoyant session.
One year after taking on his latest executive role, Gianopulos kicked off the studio's presentation with candour. "It's no secret we've had some bad years at the box office, he said, "but we've been laying foundations to a return to the success Paramount has enjoyed in the past… to deliver to you films for every possible audience for years to come."
Gianopulos, who needs no introduction to exhibitors after many years as the former co-head of Fox Filmed Entertainment, brought on stars and rounded off the session with a memorable appearance by Tom Cruise.
The chairman and CEO referenced a "fully invested" Paramount Animation, and Paramount Players, the youth and urban-skewing label led by Awesomeness TV founder Brian Robbins that will generate roughly six films a year.
The studio's exclusive deal with toy brand Hasbro has lined up a G.I. Joe film, a Mircronauts adaptation, and Transformers spin-off Bumblebee. Laika founder and Bumblebee director Travis Knight appeared on stage to share early footage on the December 21 release and was joined by Hailee Steinfeld, John Cena and Jorge Lendeborge Jr.
Gianopulos highlighted the co-financing partnership with David Ellison's Skydance Media, which has a number of tentpoles in the works: two Star Trek films; Top Gun: Maverick with Tom Cruise; and the Terminator reboot with Linda Hamilton and Arnold Schwarzenegger, currently in pre-production.
Other tentpoles on Paramount's 2019 slate include Stephen King reboot Pet Semetary for September 2019; and Sonic The Hedgehog from the recently announced deal with Neil Moritz's Original Films.
J.J. Abrams sent a taped message to talk up Bad Robot's first R-rated film, the Second World War horror tale Overlord that will open on October 26. Early footage showed Allied soldiers hours before the D-Day Landings in 1944 as they enter an experimental Nazi facility where all manner of horrors await them. Abrams also revelaed he was working on a new Cloverfield film.
Jane Fonda, Diane Keaton, Candice Bergen, and Mary Steenburgen walked on to talk up the studio's AFM 2017 acquisition Book Club (May 18), a grey-dollar comedy about friends whose love lives are reinvigorated when they read Fifty Shades Of Grey.
A relaxed Taraji P. Henson came on to talk up the What Women Want fantasy romance reboot What Men Want (January 11, 2019) one day before the start of production, while Tiffany Haddish promoted the November 2 release of Untitled Tyler Perry Movie. Johnny Knoxville bounded on stage to cue up footage for the comedy Action Point (June 1).
The Paramount Players slate includes horror Eli (January 4, 2019); family adventure Dora The Explorer (August 2019); and fantasy horror Are You Afraid Of The Dark (late 2019).
Paramount Animation has Wonder Park in the pipeline for March 2019, and three previously unannounced titles in the works: Monster On The Hill, a partnership with Walden Media due out in 2020; Luck, a comedy with the studio's co-finance partner Skydance; and live-action CG animated SpongeBob Squarepants instalment It's A Wonderful Sponge due out in July 2020.
The session included adoption comedy Instant Family (February 2, 2019) starring Mark Wahlberg, Rose Byrne and Octavia Spencer.