'Paul's legacy lives through every frame that we shoot,' star tells attendees.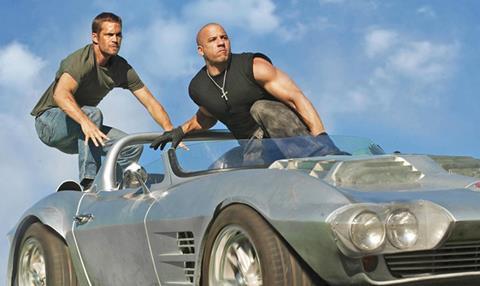 In a show-stopping portion of Universal's presentation in Las Vegas on Wednesday, Vin Diesel paid heartfelt tribute to the late Paul Walker before he introduced a surprise screening of April 14 release The Fate Of The Furious.
"That was a hard decision to make," Diesel said of continuing the $3.9bn, 16-year-old global franchise after his friend's death in November 2013. "But part of Paul's legacy lives through every frame that we shoot.

"Every time you see Dom [Diesel's character] on film, every time you see any of the cast… you are reminded of this angel that was so integral to this concept of brotherhood for our millennium.
"There's something beautiful about that, something celebratory about that. The irony is when I thought about going into this eighth chapter, it was Paul Walker who promised eight.

"I played over and over in my brain him saying, 'Eight is guaranteed.' I always feel like he is looking down on us so we never want to let him down."
Joining Diesel on stage at The Colosseum in Caesars Palace were Tyrese Gibson, Ludacris, Kurt Russell, new franchise addition Charlize Theron as the villain, and director F. Gary Gray.
Cast member Dwayne Johnson was notable by his absence amid reports he and Diesel do not get along after an altercation on the set of The Fate Of The Furious.
Johnson took part in two CinemaCon presentations this week, touting Jumanji: Welcome To The Jungle for Sony on Monday and Baywatch for Paramount on Tuesday. However he was a no-show for Universal and was said to be back on the Florida set of HBO show Ballers.
"We're just proud that this is a franchise that every man, woman and child can show up and support as a family," Gibson said.
Diesel thanked exhibitors for supporting "this saga of the millennium" and "allowing us to do something that's never been done."
He recalled announcing the eighth instalment at the last CinemaCon when he said it would be the best film ever seen. "So hold me to that."
Previously announeced ninth and tenth instalments are in the works.