The deal with Empire sees CinemaNext expand UK footprint.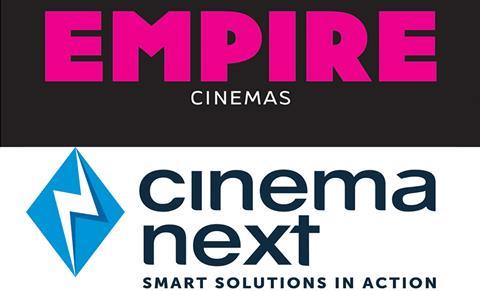 European exhibition services company CinemaNext has signed an agreement with UK exhibitor Empire Cinemas.
The deal will see CinemaNext, part of Ymagis Group, oversee the installation of projection and audio technologies, provide maintenance services and technical customer support.
Empire operates 14 cinemas in the UK with 127 screens including two IMAX venues. It also has two further locations in backlog, with a new 14-screen complex set to open in February 2017 in Ipswich, and another 10-screen complex scheduled for early 2018 in Barnsley.
CinemaNext provides exhibition services to a variety of cinema chains accross Europe. The company has installed more than 9500 screens to date.
Justin Ribbons, chief executive of Empire Cinemas, commented: "We have had an in-house engineering team for many years, but with the advent of digital and the technical changes that our industry has, and continues to have, it is more cost effective to have a good technical partner that can carry the cost of training, spare parts inventory, installations and, importantly, supporting our cinemas so that they continue to offer our customers the best possible cinematic experience."
Till Cussmann, SVP CinemaNext, added: "The immediate result of this agreement with Empire Cinemas is the significant strengthening of our UK-based operations with the addition of six new highly-skilled and experienced engineers to our local team led by Jerry Murdoch (country manager, CinemaNext UK) and André Mort (now technical director, CinemaNext UK)."