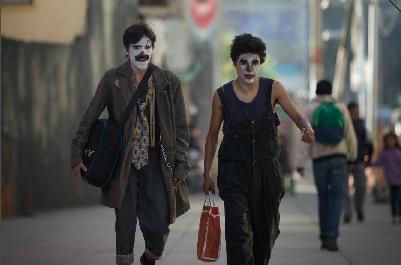 Cinépolis Distribución has acquired Gael García Bernal's second directorial outing, Chicuarotes, and is planning a pan-Latin American release in 2019.
Bernal is producing through his new outfit La Corriente del Golfo, alongside Marta Núñez Puerto for Cinematográfica Amaranto. Thomas Benski of Pulse Films and Isaac Lee of TAO are co-producers. The film's festival premiere will be announced shortly.
Chicuarotes tells the story of two teenagers from Mexico City who enter the criminal underworld in a bid to flee their oppressive circumstances.
Benny Emmanuel, Leidi Gutiérrez, Dolores Heredia and Daniel Giménez Cacho star alongside a group of local non-professional actors.
Cinépolis Distribución is collaborating with Bernal on Alonso Ruizpalacios' Museo, which plays the Morelia Film Festival (October 20-28) and worked with the Mexican star on Jonás Cuarón's Desierto.
"I can't think of a better partner to launch Chicuarotes with in Mexico and Latin America," said Bernal of Cinépolis Distribución. "Their constant efforts to promote these films being made guarantees that Chicuarotes will have the journey it deserves. I can't wait to show this film and see it travel around the world".
Cinépolis Distribución added: "We are delighted to collaborate with Gael in this journey. Chicuarotes is an incredible project that shows a vibrant and complex Mexico with a beautiful timely and timeless story."