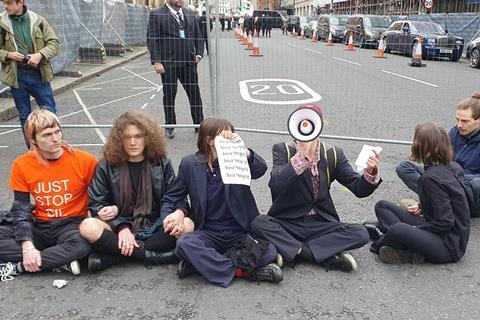 The Bafta Film Awards red carpet has been disrupted by a group of protestors campaigning against new fossil fuel projects in the UK.
Four protestors made it on to the red carpet area, where they repeated loud chants including "Just Stop Oil" - the name of the protest group.
Another group of 10 to 15 protestors blockaded Prince Consort Road, preventing cars that had dropped guests including nominees from exiting the arena.
The protestors told Screen they did not intend to move before the beginning of the ceremony, and are prepared to be arrested if necessary.
"This is not a protest directed against the Baftas as an institution; this is not a protest against the film industry. This is a cry for help," said one protestor, who identified himself as Bush, to Screen. "We are appealing to the celebrities who are attending who are very wealthy, very influential - we're appealing to them to use their platform to take action on the climate crisis. Because we really are in a climate emergency. We're fucked.
"My generation in 30-40 years will live in a world where we can't grow crops in this country. So our food security here will be in question. It's a gradual change and people are reluctant to acknowledge that."