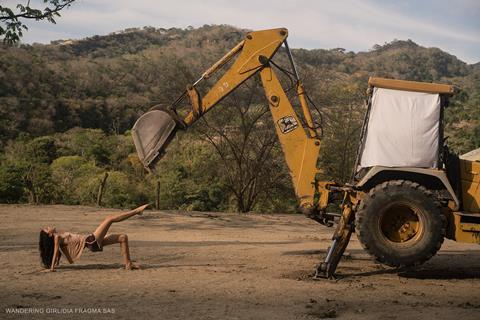 Rubén Mendoza's Colombia-France drama Wandering Girl scooped the top prize as the curtain came down last night on the 22nd Tallinn Black Nights Film Festival in Estonia.
The film, which had its world premiere in Tallinn, follows 12-year-old Angela and her three step-sisters who are approaching their thirties. The four meet for the first time when summoned for the death of their charismatic father. Daniel García produced.
The jury, which was headed by Italian director Andrea Pallaoro, cited the film for "powerfully exploring themes of grief and abandonment through a very moving, intimate, piercing, and delicate sensorial cinematic approach".
Wandering Girl also took home the best music prize for composer Las Ānes.
Elsewhere, South Korean filmmaker Jang Woo-jin took the best director prize for his lost love tale Winter's Night, a European premiere in Tallinn. Seo Young-hwa took the best actress prize for
Elsewhere in the Official Selection (the festival's primary competition), Rajat Kapoor took best script for his Indian feature Kadakh, while Sheeple actor Navid Mohammadzadeh and Until We Fall actor Dar Salim shared the best actor prize. Jean Pierre St-Louis won best cinematographer for Canadian feature A Place To Live.
Further Competitions
In the festival's First Feature Competition, the best film award went to director Margaux Bonhomme and producer Caroline Bonmarchand for their French feature Head Above Water. The jury, which was headed by Mike van Diem, commended the film as a "gripping and truly heartbreaking family drama".
Two special jury prizes were presented: to As I Fall director Magnus Meyer Arensen, and to Cronofobia director Francesco Rizzi.
In the Baltic Film Competition, the best film award went to Summer Survivors from director Marija Kavtaradze.
In the Estonian Film Competition, best film went to Ahto. Chasing a Dream from director Jaanis Valk.
The festival's audience award went to the Hadi El Bagoury's The Guest and Adrian Panek's Werewolf.
The full list of prizes are below.
Grand Prix for the Best Film: Wandering Girl / director Rubén Mendoza, producer Daniel García (Colombia-France)
Best Director: Jang Woo-jin / Winter's Night (South Korea)
Best Script: Rajat Kapoor / Kadakh (India)
Best Actress: Seo Young-hwa / Winter's Night (South Korea)
Best Actor: shared by Navid Mohammadzadeh / Sheeple (Iran) and Dar Salim / Until We Fall (Denmark)
Best Cinematographer: Jean Pierre St-Louis / A Place To Live (Canada)
Best Music: Las Ānes / Wandering Girl (Colombia-France)
Best Film Award: Head Above Water / director Margaux Bonhomme, producer Caroline Bonmarchand (France)
Special Jury Prize #1: As I Fall / director Magnus Meyer Arensen (Norway)
Special Jury Prize #2: Cronofobia / director Francesco Rizzi (Switzerland)
Best Baltic Film award winner: Summer Survivors / director Marija Kavtaradze (Lithuania)
Best Estonian Film award winner: Ahto. Chasing A Dream / director Jaanis Valk (Estonia)
Rebel with a Cause Award: Mira / director Denis Shabaev (Russia)
Award for Best Asian film by the jury of Network for the Promotion of Asian Cinema (NETPAC): Kejal / Nima Salehiyar (Iran)
International Federation of Film Critics (FIPRESCI) Award: Head Above Water /director Margaux Bonhomme (France)
Ecumenical Jury Prize by the spiritual leaders of the largest congregations in Estonia (chosen from Official Selection): Werewolf / director Adrian Panek (Poland)
Audience Award: shared by The Guest / directed by Hadi El Bagoury (Egypt) and Werewolf / directed by Adrian Panek (Poland)
Lifetime Achievement Awards of the festival:
Liv Ullmann (Norway)
Ivars Seleckis (Latvia)
Mark Soosaar (Estonia)
International Competition: Best Short Film: All Inclusive / director Corina Schwingruger-Iliç (Switzerland)
International Competition, Best Animation: Egg / director Martina Scarpelli (Italy)
Youth and children's film festival Just Film, Youth Competition, Best Film: Hope You'll Die Next Time / director: Mihály Schwechtje (Hungary)