If there is a theme emerging at this year's Comic-Con it is British talent making splashy show debuts and Daniel Radcliffe did not disappoint as he delighted Hall H on Friday (25) to promote Horns.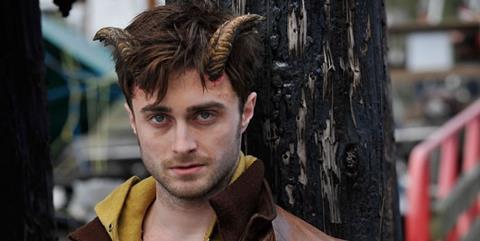 The film premiered at Toronto 2013, where the world got the first chance to see Radcliffe as a young man who sprouts horns after his girlfriend is found brutally murdered.
"I like films that defy genre," said Radcliffe, who fielded questions from plenty of fans of his work in the Harry Potter franchise and beyond.
"He's somebody who's gong through a torrid time in his life and is trying to keep what is left of his humanity around him," said the actor.
"Physically he is turning into the devil but inside he is still himself but it's the world around him that is turning into hell," said director Alex Aja.
The French film-maker, whose credits include High Tension and the Hills Have Eyes and Piranha remakes, said he was unsure of Radcliffe's broader acting ability when they met and had not yet seen The Woman In Black.
"The first thought that came to me when we met was the fact that you were the character," said Aja, turning to Radcliffe.
"He's so romantic, but not in a naïve or cheesy way. You are feeling in a very extreme way. You are absolutely committed and loyal."
Radcliffe said years of watching American shows and voicing his toys gave him an advantage when it came to putting on an accent.
"I've been practicing for this since I was six," he said, adding: "I love working in accents because I feel less recognisable to myself and that's always pleasant."
Horns author Joe Hill made the crowd laugh when he saluted Hall H. "Joss Whedon's butt sweat once graced this chair and I can almost feel his essence melting up into me."
When asked which of his other books would get the big screen treatment, Hill said that Universal's screenplay of his novel Locke & Key was looking "pretty good."
Radcliffe had the final word as he spoke of his young career. "A lot of people see me as Harry, but it only takes one director to see you as somebody else and luckily there have been four or five."
Dimension Films and RADiUS-TWC will release Horns on October 31.
Everly
Earlier in the panel, Salma Hayek joined director Joe Lynch to promote the thriller Everly, which Lynch described as "Die Hard in a room."
Hayek plays a woman trapped in a building who fights back against Yakuza thugs sent by her mob boss ex-husband.
"It's really hard to find an action film with a female protagonist and it's the story of a mother," said Hayek.
"There are a lot of women out there who feel it's impossible to get out and I hope they realise there's a lot of strength inside us. But please don't go shoot anyone – it's a metaphor."
RADiUS-TWC will release Everly in the first quarter of 2015. Sierra Affinity handles international sales.