Fox hosted a starry, two-hour Hall H presentation that featured Guillermo del Toro, Colin Firth and Samuel Jackson, the cast from The Maze Runner and a surprise appearance by rapper Biz Markie who performed his hit Just A Friend.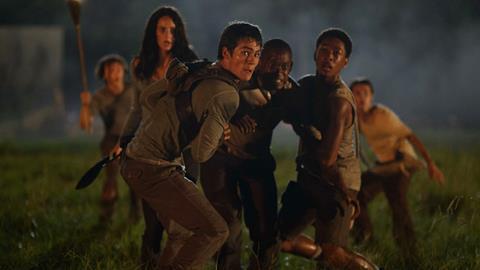 YA adaptation The Maze Runner kicked off proceedings on Friday (25) as director Wes Ball, author James Dashner and stars Dylan O'Brien, Will Poulter and Kaya Scodelario introduced several sequences from the September 19 release.
O'Brien plays Thomas, a youngster in post-apocalyptic times who must try to help a community of boys escape a mysterious field via a hazardous maze.
"All the favourite scenes the fans have in the book will be in the movie," said Ball, who later showed concept art from The Scorch Trials, the sequel he hoped to shoot later this year or in early 2015.
"It's great following [Thomas'] journey starting as the newbie and his utter defiance throughout the film and not letting his fear hold him back," said O'Brien.
"He would genuinely rather die than spend the rest of his life in The Glade," he added, referring to the open area surrounded by the maze where the young community lives. The youngster inadvertently let slip a spoiler when he revealed the toughest part of filming was "Chuck's death."
Ball showed footage of a chase sequence inside the maze where Thomas tries to elude a Griever, one of many mechanical spiders that patrol the labyrinth.
Book of Life
Next up Guillermo del Toro came on wearing his producer's cap and joined Channing Tatum, Christina Applegate, Ron Perlman and director Jorge Gutierrez to tub thump for the dazzling animation Book Of Life.
The October 17 release is heavily inspired by the Mexican tradition of the Day Of The Dead and follows a romantic young man's adventure through three fantastical worlds.
Del Toro described how he felt compelled to help when the first-time feature director pitched the idea. "What I saw was such a beautiful set of images," he said. "I produce movies when I feel they need me and so we can protect this baby all the way to the end of the line."
"I got married on the Day Of The Dead because my best friend is dead and I wanted him to be my best man and I knew he would show up," said Gutierrez. "The iconography of Day Of The Dead is beautiful."
Rapper Biz Markie then appeared to sing Just A Friend and sang along with Tatum in what had become a highly entertaining occasion that ended with the cast members departing the stage to audience chants of "Hellboy 3! Hellboy 3!" The voice cast includes Zoe Saldana, who was not in attendance.
Hitman: Agent 47
The tone turned darker as Rupert Friend sent a video message from the South Africa set of Homeland to introduce his starring role in Hitman: Agent 47.
Cast members Zachary Quinto and British actress Hannah Ware took to the stage. "We take the world of the game and we extend it," said Quinto, who plays the enigmatic John Smith.
"I tend to be drawn to characters who have more to them than meets the eye," Quinto told Hall H. Hitman: Agent 47 is set to open on February 27, 2015.
The key cast of Let's Be Cops arrived to share the story of the broad comedy about friends who land in hot water when they pretend to be police officers. It is scheduled to open on August 13.
Kingsman: The Secret Service
Rounding out the presentation in style was Kingsman: The Secret Service slot. Director Matthew Vaughn was unable to attend due to an unspecified ailment. Wearing a Kick-Ass mask, he recorded an intro segment alongside Mark Hamill.
The studio ran a trailer from the action-heavy, tongue-in-cheek adventure comedy in which a debonair Jack Davenport arrives to rescue Hamill's character in what appears to be a mountain-top lair before his winning ways are cut short and a lisping, villainous Jackson enters as the room.
In a separate pub sequence, Firth, impeccably turned out in suit and brolly, gives advice to a talent wastrel over a pint of beer before he swings into action and dispenses with a gang of louts.
"I don't think this has a debt only to Bond by any means. It certainly wasn't in our thinking," Firth told Hall H, adding that the inspiration in the screenplay was also informed by Steed from The Avengers, Len Deighton's Harry Palmer and George Smiley from the John Le Carré novels.
"This is a love letter to the spy movies we miss," said Mark Millar, who along with Dave Gibbons co-wrote the comic book that served as inspiration for Jane Goodman and Vaughn's script.
Millar said he had yearned for the spies of old, with their gadgetry and wise-cracks. "When Bond kills someone nowadays he cries about it in the shower afterwards."
Kingsman: The Secret Service is scheduled to open on October 24 once the epilogue has shot in London. Millar plucked one lucky Hall H attendee from the crowd to fly to London and play a thug in that final sequence.