HBO sci-fi has blood on its mind as robots rebel in second season.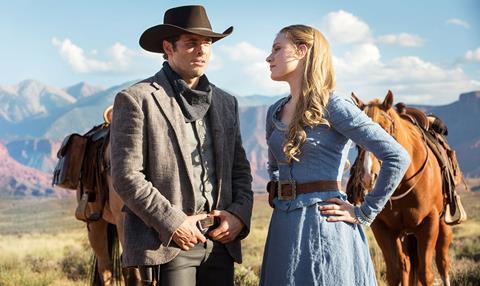 A brutal assembly of sequences rounded out HBO's Westworld panel in Hall H on Saturday afternoon.
Moderator and musician-comedian Reggie Watts prompted the footage, which depicted Jeffrey Wright standing by what appeared to be a dead tiger, then riding in the back of a buggy across a broad expanse of terrain.
The Hall H audience was also treated to the sight of Thandie Newton as Maeve, gun in hand, surveying dead corpses inside the facility where she spent much of Season 1. Evan Rachel Wood's Dolores on horseback taking potshots at people, and a bloodied Man In Black played by Ed Harris donning his infamous Black hat rounded out the imagery.
Earlier, a long line of the show's stars discussed their work on the show, which recently received 22 Emmys nominations.
Discussing her role as Maeve, Newton said she knew in advance the part would involve lots of nudity, which would ordinarily have gone against her desire to portray women in strong roles, yet she was not intimidated.

"For the first time in my professional and personal life I have complete faith [in the showrunners]. I have no idea where it's going… I don't know but I can't fucking wait to find out."
Wood said of her role as Dolores was the most satisfying work of her career so far. "Working on the show changed my life in many different ways. [Dolores] was such a gift to be given."
She added: "I would drive home covered in bruises and blood and be happy because it was something amazing."
Season 2 is one week into filming and will air in 2018.