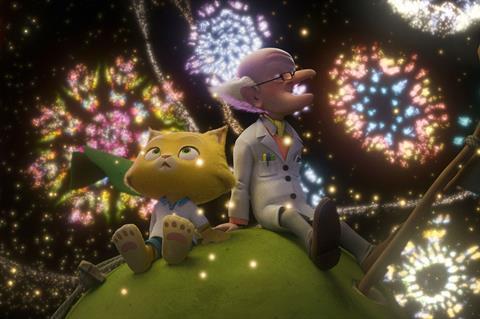 Digital and theatrical distributor Condor Entertainment has acquired Danish animation The Incredible Story Of The Giant Pear, the opening film of the Berlinale's Generation Kplus competition, from LevelK.
Condor has also picked up Lukas Feigelfeld's gothic horror tale Hagazussa from Raven Banner, ahead of its appearance in Berlin Critics' Week.
The Paris-based company, which was launched in 2010, runs two separate slates, one aimed at films for theatrical release, the other focused on direct-to-digital titles, and handles 25 to 30 titles a year.
It is planning to release The Incredible Story Of The Giant Pear on 200 screens on April 25 in France to coincide with the spring school holiday. Hagazussa will be released by its Condor's digital arm, also in the spring.
"The same team buys across both slates," said Condor Entertainment CEO Alexis Mas, who is at the EFM with the company's head of distribution Anne-Cecile Rolland and head of acquisitions Aranka Matits.
"We're looking for a combination of arthouse orientated titles for theatrical and quality genre films for the digital slate. At the EFM, we're looking for two to three titles in each category."
Other freshly-announced acquisitions include Israeli director Amichai Greenberg's Holocaust legacy thriller Testament, which premiered in Venice Horizons last year, from Rome-based Intramovies.
It has also picked up Brazilian filmmaker Gustavo Pizzi's Loveling, about a mother struggling to let go of her teenage son, following its well-received debut at Sundance and International Film Festival Rotterdam. The title is handled internationally by New Europe Film Sales.