Wild Bunch Distribution awaits first figures to see whether controversy has impacted film's performance at the box office.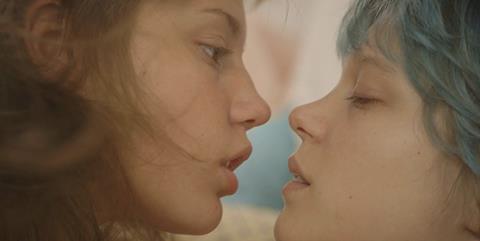 Filmmaker Abdellatif Kechiche may have declared he didn't want Adèle: Chapter 1 & 2 to be released after a public bust-up with its co-stars over his directing techniques but it has been business as usual for the film's French distributor Wild Bunch Distribution (WBD).
The Palme d'Or-winning picture, also known as Blue is the Warmest Colour, opens on 300 screens across France tomorrow [Oct 9].
"We expect the film to seduce a wide audience in spite of its length (179 minutes) and it's 12-certificate. Wherever it has played it has been hailed as a masterpiece. We're aiming for at least 800,000 admissions," WBD chief Thierry Lacaze told ScreenDaily.
"The Palme d'Or put Adèle: Chapter 1 & 2 in a category apart in French cinema which also includes Under the Son of Satan, A Man and a Woman, The Umbrellas of Cherbourg and most recently The Class," added Lacaze, who took over as head of WBD from Jean-Philippe Tirel last May.
Controversy
Despite Cannes credentials it has not been plain sailing in the lead-up to the film's release. Kechiche's critically acclaimed tale of a passionate lesbian romance has been mired in controversy ever since its Palme d'Or triumph at Cannes last May – and not because of the subject matter.
The day after the win, France's powerful technicians union put out a statement criticising the conditions on set. In addition, Julie Maroh - the author of the graphic novel on which the film is based - complained Kechiche had forgotten to mention her in his acceptance speech.
Over the summer, the co-stars also openly criticised the director. Co-lead Léa Seydoux said in an interview that she felt "humiliated" and "like a prostitute" at times on set while co-star Adèle Exarchopoulos questioned whether she would ever work with Kechiche again.
In response, Franco-Tunisian Kechiche told French culture magazine Télérama that he also felt 'humiliated" as well as "disgraced" and that he no longer wanted the film to be released because it had been "sullied" by the controversy.
In the ensuing media frenzy, French broadsheet Le Figaro ran an article headlined, "Adèle: Chapter 1 & 2, chronicle of a promotional suicide".
Does Lacaze think the media storm damaged the film? "Probably… We will tell you once we have the first figures."
Release campaign
In the meantime, WBD has been pressing on with its release campaign across France.
"We set in motion a major marketing campaign at the end of August," commented WBD marketing director Susanna Nilstam.
"We bought a considerable chunk of the cinema space. The trailer ran before films like Young & Beautiful, Blue Jasmine and The Butler, an extensive poster campaign kicked off in September and we've also set up media partnerships with a number of quality outlets such as Télérama, Canal+, the free newspaper 20 Minutes and France Inter."
Beyond mainstream and art-house theatres, WBD has also been focusing on university campuses and student audiences as they returned from the summer break in September.
"We also like to compare the film to Savage Nights (Les Nuits Fauves). We think it could quickly become the generational film of it time," added film marketing veteran Lacaze, referring to the late Cyril Collard's 1992 semi-autobiographical tale of a hedonistic, HIV positive man with a complicated sex life.
Lacaze reveals that Kechiche has continued to support the film, even after the publication of the Télérama interview, recently attending a screening at youth-focused festival in Bordeaux where he talked to the student audience for thirty minutes afterwards.
"At heart, he's happy the film is coming out and is supporting our release campaign," says Lacaze.
Some in the industry have questioned why Wild Bunch did not push for a September release for Adèle so that it could be potentially submitted as France's Foreign Language Oscar candidate.
"Apart from the fact we weren't technically ready – there was more work done on the sound after Cannes – October is traditionally one of the best markets of the year for art-house films. It's great trampoline for a high-calibre film," explained Lacaze.
"It's a competitive market but there is no direct competition from another "mainstream art-house" title – apart from Blue Jasmine but that came out two weeks ago."
Given that gala performances at home have been packed-out and festival screenings abroad have been selling out fast, WBD's objective of 800,000 seems conservative, especially also given the fact that Savage Nights drew 2.8 million spectators and Kechiche's award-winning 2007 picture The Secret of the Grain clocked up just over one million entries.
"Times are different. The box office for art-house films isn't what it is… we also have to gauge the impact of the film's length," says Lacaze.
Adèle: Chapter 1 & 2 kicks off a busy autumn for WBD, which also includes Albert Dupontel's 9-Month Stretch, James Gray's The Immigrant and Valérie Lemercier's 100% Cachemire.
None of these films are likely to prompt the same media storm as Adèle: Chapter 1 & 2 but the WBD team has the marketing of Abel Ferrara's Dominique Strauss Khan-inspired Welcome to New York to look forward to in 2014.