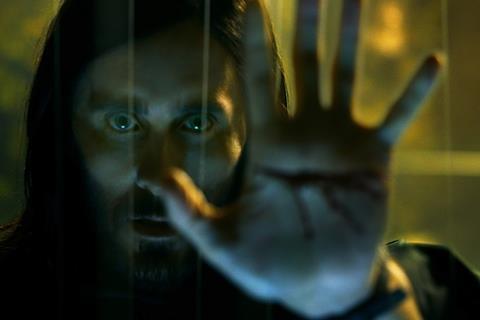 The latest Covid surge is beginning to hit the distribution and exhibition sector in North America, with the Canadian province of Ontario temporarily closing cinemas and Sony Pictures pushing back the release of Spider-Man spin off Morbius.
Sony has pushed the North American launch of Columbia Pictures release Morbius, its Marvel anti-hero feature starring Jared Leto, from January 28 to April 1. The film was to have been the first of a slew of comic book-based offerings for 2022 but will now open a few weeks after Warner Bros' The Batman reboot starring Robert Pattinson.
Meanwhile in Canada, the government of Ontario, which includes the country's most populous city Toronto, has imposed a modified version of a previous step in its 'Roadmap to Reopen' agenda calling for the closure of cinemas, as well as theatres and indoor concert venues.
Cineplex, the province's biggest cinema chain confirmed the move in a statement: "Based on recent government directives, all 67 of our theatres in Ontario will be closed as of Wednesday, January 5 and will reopen as soon as we are allowed," the company said.
Ontario premier Doug Ford announced the measures, saying "As we continue with our provincial vaccine booster efforts, we must look at every option to slow the spread of the highly contagious Omicron variant. Putting these targeted and time-limited measures in place will give us more opportunity to deliver vaccines to all Ontarians and ensure everyone has maximum protection against this virus."
The Ontario measures come two weeks after a move by the Canadian province of Quebec to shut its cinemas because of the Omicron-driven Covid surge. Other provinces have reduced capacity in cinemas to 50%.