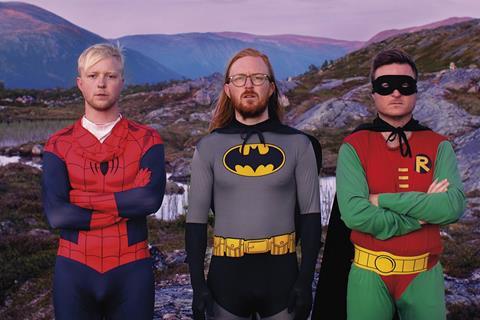 The 20th anniversary edition of Copenhagen International Documentary Film Festival (CPH:DOX) includes more than 200 films, of which over 100 are world premieres – the most ever at a single edition of the festival.
The festival will screen 61 titles across five international competition sections: New:Vision, F:Act, Nordic:Dox, Next:Wave and the previously announced Dox:Award titles.
Scroll down for the full list of competition titles
46 of the 61 competition titles are world premieres, with 10 international premieres and five European debuts.
Films directed by women make up 47% of the lineup, with men represented on 38%. Ten percent are directed by mixed-gender directing teams; with five percent by non-binary filmmakers.
Guest stars
The festival has also booked an eclectic range of guest speakers for the anniversary edition. Filmmakers addressing the Copenhagen audience will include Wim Wenders, Asif Kapadia and Free Solo director Elizabeth Chai Vasarhelyi; while personalities from outside of the film world will include folk music legend Joan Baez; Utopia For Realists author Rutger Bregman; Swedish musician Jose Gonzalez; and US comedian Nathan Fielder, creator of documentary series The Rehearsal.
The theme of this year's edition is 'Predicting the Past, Rewriting the Future'. It aims to 'explore how both the past and the future play a crucial role in our present', according to CPH:DOX.
"At this year's festival, we examine how history has become a weapon used in the great contemporary social debates about post-colonialism, identity politics and other important agendas," said Niklas Engstrom, CPH:DOX artistic director. "On the other hand, we look at scenarios - utopian as well as dystopian - and explore how our ideas about the future are shaping the way we organize society right now."
The 20th anniversary edition will be "a blast", Engstrom added. "When we founded CPH:DOX twenty years ago, we never imagined that two decades later we would be celebrating our birthday as one of the world's leading documentary festivals. It calls for celebration, and we're doing so with a firework of a programme with more filmmakers, more world premieres, more events and, not least, more parties than ever before."
CPH:DOX 2023 runs from March 15-26, with screenings in cinemas across Copenhagen, plus in 28 municipalities across Denmark.
CPH:DOX 2023 competition sections
See the DOX:Award titles here.
New:Vision award
Bruises (Ger-Mex) dirs. Ginan Seidl, Daniel Ulacia
Drifting Woods (Den) dir. Pia Ronicke
The Society Of The Spectacle (Swe) dirs. Rory Farhat, Goran Hugo Olsson
Burial Of This Order (Den-Ger) dir. Jane Jin Kaisen
Into The Violet Belly (Viet-Ger) dir. Thuy-han Nguyen
The Secret Garden (Leb) dir. Nour Ouayda
Fat To Ashes (Fr) dir. Pauline Curnier Jardin
Insert Song (Den) dir. Kamil Dossar
Pacific Club (Fr) dir. Valentin Noujaim
Nothing Runs Like A Deere (Swe) dir. Max Goran
New Centuries Are Rare (Swe-Den) dir. Coyote
An Excavation (UK) dir. Maeve Brennan
An Asian Ghost Story (HK-Neth) dir. Bo Wang
The Departing Images (Chile-Fr) dir. Ana Edwards
Levitate (It-Sp-Fr) dir. Ivan Argote
A Piece Of Work (Den-Tur) dir. Deniz Eroglu
F:Act award
20 Days In Mariupol (Ukr) dir. Mstyslav Chernov
Baghdad On Fire (Iraq-Nor) dir. Karrar Al-Azzawi
Beyond Utopia (US) dir. Madeleine Gavin
Blix, Birds & Bombs (Swe-Cze-Ger) dir. Greta Stocklassa
Breaking Social (Swe) dir. Fredrik Gertten
Deep Rising (US) dir. Matthieu Rytz
Phantom Parrot (UK) dir. Kate Stonehill
Praying For Armageddon (Nor) dir. Tonje Hessen Schei
Seven Winters In Tehran (Ger-Fr) dir. Steffi Nierderzoll
The Hostage Takers (Den) dirs. Puk Damsgaard, Soren Klovborg
Victim/Suspect (US) dir. Nancy Schwartzman
Nordic:Dox award
Fighters (Nor) dir. Jon Haukeland
Heartist (Faroe) dirs. Marianna Morkore, Beinta a Torkilsheyggi
Hypermoon (Swe) dir. Mia Engberg
Just Before Death (Den) dir. Anne Regitze Wivel
Labor (Swe) dir. Tove Pils
Lynx Man (Fin) dir. Juha Suonpaa
Mrs Hansen & The Bad Companions (Den) dir. Jeila Bethmann
A Silent Story (Den-Swe) dir. Anders Skovbjerg Jepsen
Soviet Bus Stops (Can-Den) dir. Kristoffer Hegnsvad
The Gamer (Fin) dirs. Petri Luukkainen, Jesse Jokinen
Voice (Nor) dir. Ane Hjort Guttu
Next:Wave award
Megaheartz (Swe-Nor) dir. Emily Norling
Queendom (US) dir. Agniia Galdanova
Silent Sun Of Russia (Den) dir. Sybilla Tuxen
Smoke Sauna Sisterhood (Est) dir. Anna Hints
The Flag (Fr) dir. Joseph Paris
The Group Crit (Nor) dir. Sille Storihle
The Last Year Of Darkness (China-US) dir. Benjamin Mullinkosson
The Mountains (Den-Nor) dir. Christian Einshoj
The Tuba Thieves (US) dir. Alison O'Daniel
Twice Colonized (Den-Green-Can) dir. Lin Alluna