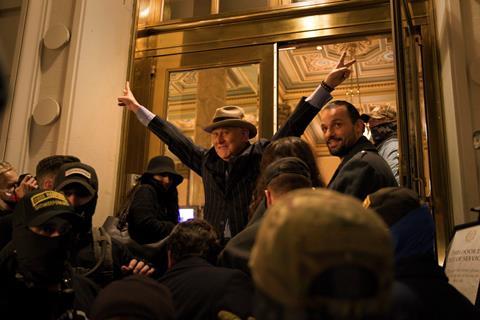 CPH:DOX has selected 13 titles for its main Dox:Award competition, including the world premiere of Christoffer Guldbrandsen's A Storm Foretold, about Roger Stone, former advisor to Donald Trump.
For the first time, all 13 titles in the Dox:Award selection will have their world debuts in Copenhagen.
Scroll down for the full list of Dox:Award titles
Written and directed by Guldbrandsen, A Storm Foretold takes Stone as its central character in documenting how Trump's presidential period reached a logical conclusion with the attack on the US Capitol building on January 6, 2021 – the 'storm' of the title.
It is produced by Henrik Veileborg, for Guldbrandsen Film; US company Submarine handles worldwide sales on the Danish film. Guldbrandsen participated in a conversation with Navalny director Daniel Roher about the ethics of profiling documentary subjects at CPH:DOX last year.
Also selected for the Dox:Award competition is Jialing Zhang's Total Trust, which the festival describes as 'the first major film about the Chinese surveillance state' and 'a disturbing tale of technology, abuse of power and (self-)censorship in the 21st century'.
Zhang previously directed 2019 documentary One Child Nation alongside Nanfu Wang. After a Sundance premiere, it played widely on the documentary festival circuit including at CPH:DOX.
''CPH:DOX is turning 20 this year, and I cannot think of a better way of celebrating it than presenting a main competition programme of such standout films premiering here in Copenhagen," said Niklas Engstrøm, CPH:DOX artistic director. "We're excited and honoured that all of these great filmmakers have trusted CPH:DOX as the festival to launch their films, and I'm looking forward to celebrate all of these 13 world premieres in Copenhagen next month."
"Yes, the times are dark and the world is a mess, but as long as we are able to laugh, we still stand a chance, and therefore I find it encouraging how several of these films use humour as a method to open our minds to the complexity of life in the 21st century."
The full CPH:DOX competition lineup will be announced on February 21; the 20th edition of CPH:DOX will run from March 15-26.
The festival has also programmed seven speakers for its Inter:Active symposium, which will feature discussions about the metaverse and its effects on business, society and our lives at large.
A keynote address will be given by Sofie Hvitved, head of media at the Copenhagen Institute for Futures Studies; with further speakers including immersive artist Lauren Moffatt, curator Eva Jäger, animator Danielle Brathwaite-Shirley, media artist Jake Elwes, 3D animator Jakob Kudsk Steensen, and cultural collaborator Calum Bowden.
Dox:Award 2023 selection
After Work (Swe) dir. Eik Gandini
Eat Bitter (CAF-China) dirs. Ningyi Sun, Pascale Appora-Gnekindy
The Hearing (Switz) dir. Lisa Gerig
Light Needs (US) dir. Jesse McLean
Motherland (Swe-Ukr-Nor) dirs. Alexander Mihalkovich, Hanna Badziaka
On the Edge (Fr) dir. Nicolas Peduzzi
The Other Profile (Fr) dir. Armel Hostiou
Songs of Earth (Nor) dir. Margreth Olin
A Storm Foretold (Den) dir. Christoffer Guldbrandsen
Theatre of Violence (Den) dirs. Emil Langballe, Lukasz Konopa
A Tiger in Paradise (Swe) dir. Mikel Cee Karlsson
Total Trust (Ger-Neth) dir. Jialing Zhang
Vintersaga (Swe) dir. Carl Olsson