Copenhagen-based documentary festival CPH:DOX (March 20-31) has revealed its line-up of competition titles for 2019.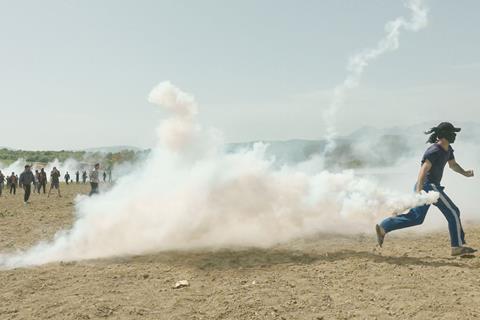 Notable world premieres include The Rest, the latest feature from Chinese artist and activist Ai Weiwei. His previous feature, refugee crisis doc Human Flow, premiered at Venice in 2017 and won multiple awards.
The Rest is a parallel work to Human Flow, again focusing on the refugee crisis, but this time in line with the voice and experience of an individual refugee. Edited down from 900 hours of footage, the film depicts those living in political limbo in Europe, as the humanitarian system is overloaded and xenophobia is on the rise.
Weiwei was previously a guest curator at CPH:DOX in 2013 but was unable to visit the festival due to travel restrictions imposed by the Chinese authorities.
Also premiering is James Jones and Olivier Sarbil's On The President's Orders, a documentary chronicling the bloody campaign against drug dealers and users currently being waged in the Philippines by president Duterte.
Jones is an Emmy-winning and Bafta-nominated filmmaker whose work includes episodes of PBS series Frontline and BBC series This World. Sarbil is also an Emmy-winner for his work on Frontline.
The CPH:DOX competition programmes consist of 66 titles with 43 world premieres, 18 international premieres and five European premieres.
In total, 45% of the titles (30 films) have a female director.
The full list of competition titles:
DOX:AWARD
The Rest, Ai Weiwei, China, Germany, world premiere
Swarm Season, Sarah J Christman, US, world premiere
Rediscovery, Phie Ambo, Denmark, world premiere
Tiny Souls, Dina Naser, Jordan, Qatar, France, world premiere
The Reformist (opening film), Marie Skovgaard, Denmark, world premiere
Shelter, Enrico Masi, Italy, France, world premiere
On the Inside of a Military Dictatorship, Karen Stokkendal Poulsen, Denmark, France, world premiere
A Stranger, Mikel Cee Karlsson, Sweden, world premiere
Searching Eva, Pia Hellenthal, Germany, international premiere
Ridge, John Skoog, Sweden, international premiere
The Edge of Democracy, Petra Costa, Brazil, European premiere
The Disappearance of My Mother, Beniamino Barrese, Italy, European premiere
NEW:VISION
A Moon for My Father, Mania Akbari, Iran, world premiere
Everybody in the Place, Jeremy Deller, UK, world premiere
Western Rampart, SUPERFLEX, Denmark (short), world premiere
Shed a Light, Laure Prouvost, France, Belgium (short), world premiere
Now, at last!, Ben Rivers, UK (short), world premiere
Des trous, Keren Cytter, Israel (short), world premiere
Transformation Scenario, Clemens von Wedemeyer, Germany, Latvia (short), international premiere
Prometheus, Haig Aivazian, Lebanon (short), world premiere
In the Body of Sturgeon, Mary Reid Kelley & Patrick Kelley (short), US, world premiere
•, Ezekiel Morgan, Germany (short), world premiere
Darwin Darwah, Arash Nassiri, France (short), world premiere
Télédésir, Cindy Coutant, France (short), world premiere
So Dear, So Lovely, Diana Allen, Canada, Lebanon (short), world premiere
Towards the Sun, Nour Ouayda, Lebanon, Canada (short), international premiere
All That Perishes at the Edge of Land, Hira Nabi, Pakistan (short), world premiere
F:ACT AWARD
On the President's Orders, James Jones & Olivier Sarbil, UK, world premiere
The Good Terrorist, Robert Oye, Netherlands, world premiere
Push, Fredrik Gertten, Sweden, world premiere
Democracy LTD, Robert Schabus, Austria, France, UK, world premiere
Dark Suns, Julien Elie, Canada, European premiere
Sea of Shadows, Richard Ladkini, Austria, European premiere
American Factory, Steven Bognar & Julia Reichert, US, international premiere
Midnight Family, Luke Lorentzen, Mexico, US, European premiere
Favela Frontlines, Renato Martins, Brazil, international premiere
War of Art, Tommy Gulliksen, Norway, international premiere
The Color of Justice, Marjolaine Grappe, France, international premiere
NORDIC:DOX
Revenge of the Diva, Emelie Jönsson & Gustav Ahlgren, Sweden, world premiere
Winter's Yearning, Sidse Torstholm Larsen & Sturla Pilskog, Norway, Denmark, Greenland, world premiere
Mating, Lina Maria Mannheimer, Sweden, international premiere
The Feminister, Viktor Nordenskiöld, Sweden, world premiere
Don't Give a Fox, Kaspar Astrup Schröder, Denmark, world premiere
Q's Barbershop, Emil Langballe, Denmark, world premiere
Forget Me Not, Sun Hee Engelstoft, Denmark, South Korea, world premiere
The Men's Room, Petter Sommer & Jo Vemund Svendsen, Norway, international premiere
All We Own, Emily Norling, Sweden, international premiere
The Hypnotist, Arthur Franck, Finland, international premiere
Where Man Returns, Egil Håskjold Larsen, Norway, international premiere
Wolfland, Olivia Chamby-Rus, Denmark, world premiere
Once Aurora, Stian Servoss & Benjamin Langeland, Norway, world premiere
NEXT:WAVE
Property, Matthias Lintner, Germany, world premiere
The Last Male on Earth, Floor van der Meulen, Netherlands, Belgium, Germany, world premiere
Ibrahim, Lina Alabed, Lebanon, world premiere
Inland, Juan Palacios, Spain, world premiere
A Married Couple, Emil Langballe, Denmark, world premiere
When All is Ruin Once Again, Keith Walsh, Ireland, international premiere
Kabul City in the Wind, Aboozar Amini, Afghanistan, Netherlands, Japan, Germany, international premiere
The Hottest August, Brett Story, US, Canada, international premiere
Hi, AI, Isa Willinger, Germany, international premiere
I Was Here, Nathalie Biancheri & Ola Jankowska (UK, Poland), world premiere
House of Furies, Nanna Rebekka & Pernille Lystlund Matzen, Denmark (short), world premiere
The Dream of Lady Hamilton, Oliver Cheval, France (short), world premiere
You See the Moon, Miguel Nunes, Portugal (short), international premiere
A Tree Is Like a Man, Thorbjorg Jonsdottir, Iceland (short), world premiere
Concrete Nature: The Planetary Sand Bank, Rikke Luther, Denmark (short), world premiere