VoD service Curzon Home Cinema has licenced more than 50 features from Film4's catalogue.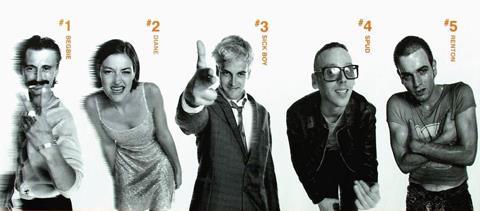 The selection, spanning the last 30 years, includes films from directors including Danny Boyle, Mike Leigh, Ken Loach and Shane Meadows.
The full list of titles (see below) will appear on the service from March 29.
The recently rebranded Curzon Home Cinema will launch two thematically linked mini-seasons weekly comprising four titles each.
The service is available online and via an app on Samsung Smart TVs with plans to expand the service across further platforms.
Full list of titles
BANDIT QUEEN, Shekhar Kapur
BODYSONG, Simon Pummell
BRASSED OFF, Mark Herman
CAREER GIRLS, Mike Leigh
CHARLOTTE GRAY, Gillian Armstrong
CLOSE MY EYES, Stephen Poliakoff
COMRADES, Bill Douglas
CROUPIER, Mike Hodges
DANCING AT LUGHNASA, Pat O'Connor
DOG EAT DOG, Moody Shoaibi
EAST IS EAST, Damien O'Donnell
THE FILTH AND THE FURY, Julien Temple
GERRY, Gus Van Sant
GHOST DOG: THE WAY OF THE SAMURAI, Jim Jarmusch
HIGH HOPES, Mike Leigh
HILARY AND JACKIE, Anand Tucker
HOUSE OF MIRTH, Terence Davis
HOWARDS END, James Ivory
INSTITUTE BENJAMENTA, Stephen Quay; Thomas Quay
LADYBIRD LADYBIRD, Ken Loach
LIFE IS SWEET, Mike Leigh
THE LONG DAY CLOSES, Terence Davies
THE LONG GOOD FRIDAY, John Mackenzie
THE LOW DOWN, Jamie Thraves
MADNESS OF KING GEORGE, Michael Hytner
MONA LISA, Neil Jordan
MONSOON WEDDING, Mira Nair
MOTORCYCLE DIARIES, Walter Salles
MY BEAUTIFUL LAUNDRETTE, Stephen Frears
NAKED, Mike Leigh
THE NINE LIVES OF TOMAS KATZ, Ben Hopkins
OLEANNA, David Mamet
ON THE BLACK HILL, Andrew Grieve
ONCE UPON A TIME IN THE MIDLANDS, Shane Meadows
ORPHANS, Peter Mullan
PROOF, Jocelyn Moorhouse
RAINING STONES, Ken Loach
RITA SUE AND BOB TOO, Alan Clarke
SECRETS AND LIES, Mike Leigh
SEXY BEAST, Jonathan Glazer
SHALLOW GRAVE, Danny Boyle
SIMON MAGUS, Ben Hopkins
THE STRAIGHT STORY, David Lynch
STRUMMER (AKA JOE STRUMMER), Julien Temple
TIME BANDITS, Terry Gilliam
TOUCHING THE VOID, Kevin MacDonald
TRACK 29, Nic Roeg
TRAINSPOTTING, Danny Boyle
VELVET GOLDMINE, Todd Haynes
THE WAR ZONE, Tim Roth
THE WARRIOR, Asif Kapadia
WELCOME TO SARAJEVO, Michael Winterbottom
WHEN THE WIND BLOWS, Jimmy T Murakami
WITHNAIL AND I, Bruce Robinson