Mongolia-set feature is set to play at London Film Festival.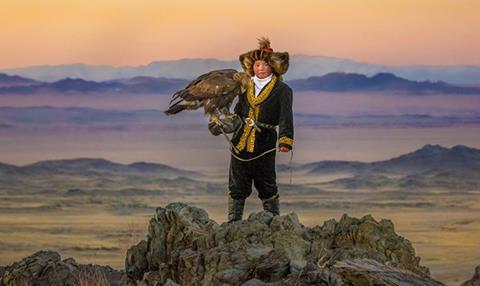 Altitude Film Distribution has struck a deal with sales agent Celluloid Dreams for UK rights to Otto Bell's documentary The Eagle Huntress.
The film tells the tale of a young girl who is determined to become the first woman to enter Mongolia's annual Golden Eagle Festival. Star Wars: The Force Awakens star Daisy Ridley narrates and is also an executive producer on the project.
Sharon Chang and Stacey Reiss produced along with director Bell.
Following its premiere at January's Sundance Film Festival, and recent berths in Toronto and Telluride, the feature is set to screen at the BFI London Film Festival on October 6 and 9.
Celluloid Dreams closed a deal with Sony Pictures Classics in Sundance for North And South America, Scandinavia, Australia/New Zealand, Germany/Austria and Asia.
Further deals have been closed for France (ARP Selection), Italy (I Wonder Pictures), Spain (Caramel), Switzerland (Praesens), Turkey (Filmarti), Portugal (Film 4 You), Ex-Yugoslavia (21 Films), and Bulgaria (Bulgaria Film Vision).
Will Clarke, CEO & co-founder of Altitude Film Entertainment commented: "It is a beautiful film that offers unique glimpses into this remote community as they balance their traditional lifestyle with the modern world, but it is Aisholpan's determination to pursue her dream which is such a powerful story of female empowerment and provides inspiration which is universal and contemporary."