EXCLUSIVE: Mikkel Jersin, Katrin Pors, and Eva Jakobsen are working on films with Amat Escalante, Carlos Reygadas and Ciro Guerra.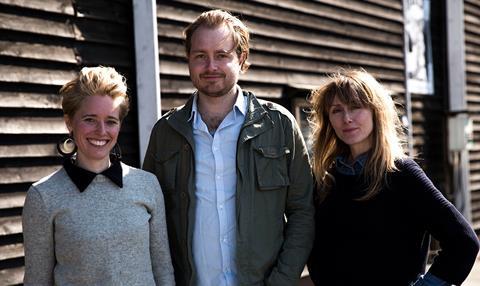 Danish producers Mikkel Jersin (Sparrows), Katrin Pors (The Untamed) and Eva Jakobsen (Antboy) have joined forces to launch Snowglobe, a new production outfit that will back director-driven films.
Snowglobe, which will have a focus on international co-productions, is currently working with established auteurs such as Colombia's Embrace Of The Serpent director Ciro Guerra and Mexican directors Amat Escalante and Carlos Reygadas.
The company is producing, alongside Guerra's usual producer Cristina Gallego, his next film Birds Of Passage, which will start shooting in January 2017.
Pors says: "It is the story of an indigenous family from La Guajira Desert who get involved in a war to control a business that ends up destroying their lives and their culture. It's the story of the origins of drug trafficking in the 1970s in Colombia."
The company is also a co-producer on Amat Escalante's The Untamed, which is now in the edit. The Spanish-language film counts Melancholia's Manuel Claro as DoP and Force Majeure's Jacob Schulsinger as editor.
Backers include the Mexican Film Institute, Eficine, MerFilms, CNC, Danish Film Institute and Copenhagen Film Fund. Mantarraya produces, Le Pacte has French rights and The Match Factory handles sales. Pors says it is "a drama with a twist…it's not what you expect."
Snowglobe is also a co-producer on Joachim Trier's next film, tentatively titled Thelema; Jersin worked on Trier's Louder Than Bombs while at Nimbus.
In post-production, Snowglobe has Bulgarian director (and Cannes Cinefondation alumnus) Ralitza Petrova's debut feature Godless, a Bulgaria-France-Denmark co-production.
The drama is about a nurse who steals the ID cards of dementia patients. Jakobsen says: "Godless is uncompromising tale about social and emotional corruption in post-communist Bulgaria. Ralitza Petrova is a remarkable storyteller and a strong, new female voice and we are thrilled to be part of this daring project alongside her producer Rossitsa Valkanova of Klas Film and Paris-based Alcatraz Films."
Snowglobe is also on board Carlos Reygadas' Where Life Is Born, which is shooting through the end of the year. Pors says it "is a simple but powerful story of love and loss of love in open couple relationships set in the context of Mexico's bull-breeding ranches."
The Match Factory is handling sales for the Mantarraya production.
The new company is also looking to to work in TV and is developing a new Nordic series in collaboration with Pegasus Pictures from Iceland.
Jersin, an EFP Producer on the Move at Cannes this year who recently departed his post at Nimbus Film, told Screen: "Things are changing fast, the old ways of doing movies is becoming expensive and clumsy. We can work with our own generation of filmmakers in a way that big companies can't… we're small, flexible, and agile as a company, and we can raise money for almost any kind of project."
Another priority for the new company is "mixing talent internationally," Pors said.
A complementary trio
Pors brings solid experience in working in Latin America, where she has worked for the past 15 years.
As Jersin says: "We thought we could all contribute different parts to something new… we have different networks and different backgrounds. We're great at co-producing, especially with Latin America, Katrin's backgound there makes us different."
Pors says the company intends to "shake it up" with new talent too. "We'd like to find new Danish talent, we can feel that people are coming up."
Jakobsen adds: "It is important for us to be able to work with upcoming talent locally and internationally. We aspire to build long-term relationships with our collaborators. First features are often particularly challenging from a financial perspective, but these are the projects that mark the beginning of a career and create long-lasting relationships."
Jersin went on to say that Snowglobe is developing a new Danish/Korean war drama through EAVE – Ties That Bind, that takes place during the Korean war and is helmed by Kasper Gardsoe.
The development slate also includes a new project with Jonas Arnby and Rasmus Birch (When Animals Dream), and a coming-of-age drama directed by Martin Skovbjerg and written by Oscar winner Christian Gamst.