Sadie Frost, Noel Fielding and Sally Phillips star in twisted comedy.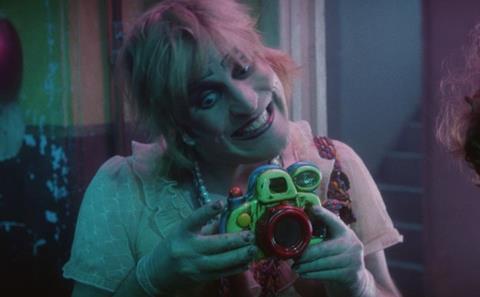 Dark comedy Set The Thames On Fire has set a UK theatrical release date of September 16 and will be available on digital platforms from September 19.
The film, directed by Ben Charles Edwards, has a cast that includes Sadie Frost (Absolutely Fabulous: The Movie), Noel Fielding (The Mighty Boosh), Sally Phillips (I'm Alan Partridge) and Morgana Robinson (The Windsors).
Set the Thames on Fire follows struggling piano player Art (Michael Winder) and compulsive liar Sal (Max Bennett) as they embark on a string of ludicrous escapades through a dystopian London, ruled over by a grotesque and tyrannical Impresario.
On their adventures they encounter a deranged Magician, played by performance artist David Hoyle, an anarchist witch (Phillips) and the Impresario's twisted right-hand man (Fielding) leading to a final showdown with the despotic ruler himself.
The film is produced by Blonde to Black Pictures, the company set up by Frost and Emma Comley in 2012. Written by Al Joshua with cinematography by Sergio Delagdo, the film is executive produced by Andrew Green.
The film marks the feature directorial debut of Edwards, whose award-winning shorts include Animal Charm (2012) and Dotty (2013), both of which starred Frost.
Set the Thames on Fire received a work in progress screening at last year's Raindance and had its world premiere at Palm Springs in January. The film opened the LOCO London Comedy Film Festival in April.