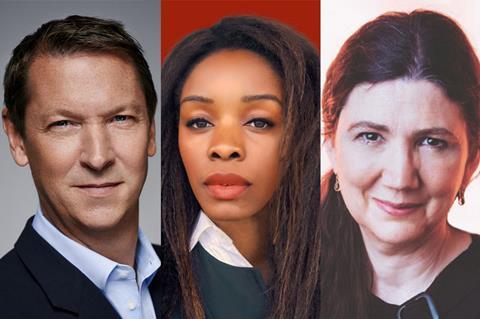 David Kosse, the London-based president of STXinternational, is joining global streaming service Netflix as vice president of international film.
Kosse will head up Netflix's new international film division from next month. Joining him is former Focus Features executive Teresa Moneo, who becomes director of international film, and Funa Maduka, who takes an expanded role as director of international film and acquisitions. All three will be based in Netflix's growing London office, with Maduka relocating from Los Angeles.
In his new role, former Film4 head Kosse will oversee all of Netflix's international film production and acquisitions, with a focus on making and acquiring significant non-English-language films.
This year, Netflix enjoyed major success with Alfonso Cuarón's Spanish-language ROMA, with the film winning three Oscars from 10 nominations, two Golden Globes, and four Baftas.
Kosse will report to Scott Stuber, the Los Angeles-based head of Netflix's film group, who oversees all global production including the UK.
With her expanded remit, Maduka – who has been working on acquiring international films for Netflix for five years with titles including Girl, Divines, On Body And Soul and The Boy Who Harnessed The Wind – will manage a growing slate of projects across development and production, while continuing to acquire non-English-language films.
Moneo will also be working across Netflix's growing international film slate. She joins from Ola Films, where she has been developing film and TV projects. She was previously a long-time executive at Focus Features, where she oversaw production of a slate of projects from the UK, as well as a consultant for Pathe Pictures and 20th Century Fox. She began her career as an executive at Miramax Films.
The company's new central London headquarters has now staffed up to more than 100 employees, and a glance at Netflix's website suggest the recruitment drive is far from complete.
New senior executives in the London office include Anne Mensah, who was hired in November from Sky to lead the scripted series content team with a focus on UK productions, as well as Diego Bunuel, who moved to the UK from LA to oversee original factual programming across Europe.
Kosse joined STX in April 2016 to head up its international operations. He was previously head of Film4 between 2014 and 2016 during which time he oversaw a significant increase in the organisation's funding. Before then, he was the London-based president of Universal Pictures International for nine years and forged a strong relationship with Stuber who was Universal's vice chairman of worldwide production. At Universal, Kosse worked on non-English-language releases including Alejandro Gonzalez Iñárritu's Biutiful and Carlos Cuaron's Rudo y Cursi.
During Kosse's time at STX, the company spent $50m on international rights to Martin Scorsese's The Irishman, only for the producers to back out of the deal to take up a global financing deal with Netflix. Eventually, STX retained distribution rights in China to the title, which is expected to be released in autumn this year. Netflix is readying The Irishman for a major awards run later this year.
"David has spent his career launching and building international film divisions," said Stuber. "With the majority of our audience outside the US, it's the right time for us to be building our international film presence. Having worked with David for years at Universal, I know there's no one better suited for this role."
Kosse added: "By making international content available globally on such a large scale, Netflix is shattering cultural boundaries in a way no other company has. And what a team to do it with – I'm thrilled to work with Scott again and to work with the incredible team he has assembled. Together, we will continue the momentum, uncover more amazing international and emerging storytellers, and inspire new conversations around the world."