Universal Pictures exec to replace Tessa Ross in November.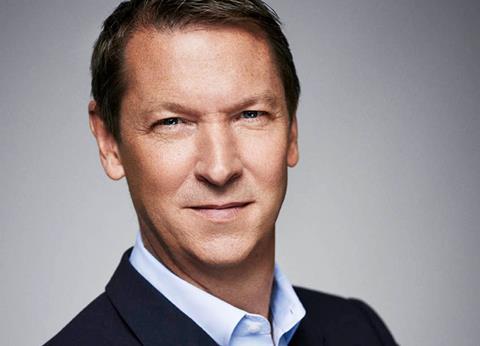 David Kosse has been named the new head of Film4, ending months of industry speculation over the appointment.
The widely-respected production and distribution executive will take up the position from November 1 after a decade at studio Universal, most recently as president of international.
He takes over from outgoing boss Tessa Ross, who leaves to become chief executive of the National Theatre in the autumn.
As director of Film4 Kosse will oversee the development, financing and green-lighting of all feature films, and support for the production and distribution of all Film4-backed releases both in the UK and internationally.
Channel 4 chief executive David Abraham told ScreenDaily that Kosse "really stood out" among candidates, with the decision crystalizing over the last month.
"He has built impeccable creative relationships with British and international talent and is also steeped in knowledge and experience of changing distribution models in film," Abraham added in a separate statement.
Abraham confirmed that outgoing boss Ross would be on hand to help with the transition and that conversations have been underway between her and the incoming Kosse. Both execs will also be at the Edinburgh TV Festival later this month.
According to a Film4 spokesperson, as director of Film4, Kosse will focus almost entirely on film unlike Ross whose remit as controller of film and drama incorporated some TV input.
However, Kosse is still likely to collaborate with Channel 4 executives including drama head Piers Wenger on those TV projects with crossover of film and TV talent such as Danny Boyle's Babylon or Shane Meadows' This Is England.
Like Ross, Kosse will report directly to Abraham.
Kosse's ambitions
Kosse described the job as "undeniably one of the best jobs in the British film industry" and said he wants to "build a slate of innovative, exciting British films which continues Film4's great filmmaking legacy of working with established filmmakers and discovering great new and original British talent."
"I've always had a passion for film and filmmakers and been a huge advocate for and a supporter of the British film industry so I am really excited about joining Film4," he added.
"Tessa Ross and her team have done a fantastic job over the past few years and I hope my experience in international production, financing and distribution will see Film4 continue to flourish."
Wide search
Film4 undertook a wide search for the new boss, aided by head hunters Spencer Stuart, with a number of international and UK executives canvassed.
During the process, well-placed sources have consistently contended that the broadcaster will be looking to sharpen its commercial imperative going forward, a theory supported by Kosse's appointment (which was anticipated by Screen in June).
However, Abraham reiterated to Screen that Film4's formula of supporting a combination of new voices and established indie talent would "remain the same" going forward. He also reconfirmed the broadcaster's minimum annual film commitment of £15m ($25.2m) per year.
Abraham accepted that the appointment of a US-based executive might have ruffled some UK industry feathers but pointed to Kosse's 17 years based in London and his tenure at British indie distributor Momentum Pictures as significant connections to the UK business.
He also confirmed that there were no more planned additions or subtractions to the current Film4 team.
Kosse's career
During his ten years at Universal, Kosse started and built Universal Pictures International, the company's international marketing and distribution arm, into a global operation based in 16 countries, which has grossed more than $2bn at the box office in 2014 alone.
He also substantially grew the international acquisitions and production business whose recent notable recent successes include Boyhood, The Wolf of Wall Street and Zero Dark Thirty.
Kosse was instrumental in driving the international success of Mamma Mia!, the Bourne franchise and Les Miserables among others. UPI's upcoming slate includes Ex Machina, The Riot Club and Black Sea.
Prior to joining Universal Pictures in 2004 Kosse ran UK distributor Momentum.
Much-revered outgoing head Tessa Ross, under whose stewardship Film4 backed Oscar-winners including Danny Boyle's Slumdog Millionaire and Steve McQueen's 12 Years a Slave and built an enviable array of talent and creative relationships, announced her departure from the broadcaster earlier this year.
David Kosse
2006-14 Universal Pictures International, president
2000-03 Momentum Pictures, managing director
1993-97 PolyGram Video, vp marketing
1984-90 Ogilvy and Mather, account executive