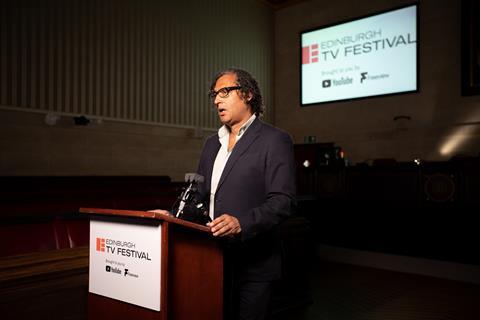 David Olusoga has decried the loss of a generation of black and Asian industry execs and commissioners and issued a blueprint for retaining the current cohort in his MacTaggart lecture.
In a blistering annual address drawing on his personal experience and those of his peers, the House Through Time presenter pointed to the "thousands" of under-represented people that have left the UK's television industry since he was part of the Edinburgh Ones to Watch programme in 1998.
Describing himself as "one of the last men standing of TV's lost generation", Olusoga said he had only stayed in the industry for so long due to a "handful of people using their power and privilege to help me".
He revealed he has sought medical treatment for clinical depression after feeling "so isolated and disempowered by the culture that exists within our industry".
"Television's lost generation spent their careers in a strange Orwellian world of doublethink," said Olusoga, who was speaking remotely to deliver the 44th annual address – the first to be delivered by a black male.
"They listened to announcement after announcement, saw initiatives launched and watched training schemes come and go. Yet at the same time their own careers and those of black and brown people around them withered on the vine."
According to Olusoga, BAME employment in UK TV declined by 31% between 2006 and 2012, which means "more black people left the industry than joined, at a time when the overall number of jobs was expanding".
"Some of this is normal churn but much of it is not and that exodus has the left the industry exposed," he added.
Olusoga denounced a situation whereby one of the first sessions of this year's Edinburgh – entitled Does TV Need a Black Controller? – took place in almost exactly the same form 12 years ago.
"Will the festival of 2030 have yet another panel asking that question for a third time?," he questioned.
"30 years of failed initiatives and ineffective training schemes and the constant haemorrhaging of BAME talent, has left a lack of trust so deep that the initiatives of 2020 have been met not with enthusiasm and excitement but with scepticism born of repeated disappointment."
Oxbridge networks
Some of Olusoga's heaviest criticism was reserved for the industry's informal recruitment and retention methods.
He lambasted the traditional of unpaid internships, the "soft skills and interests" required to progress and the casual, freelance culture of short-term contracts, which makes working in TV "too risky for people from lower socio-economic backgrounds".
"Less talked about but still present is the invisible nexus of old school ties and Oxbridge networks," he added.
"What I learnt in my early years in TV is that there were parts of the industry in which diversity meant making sure that there was a fair balance of people from Oxford and Cambridge."
Turning to other experiences, Olusoga spoke of being "met with a wall of hostility and resistance" when challenging colleagues on a documentary set about the slave trade, as black crew members were having to repeatedly wait for the more-senior white people to be served lunch before they could eat.
"Beside a recreated 18th-century slave village, on the actual site of a former slave plantation, in the hills of a former slave colony, the extras, themselves descendants of enslaved people, queued up and waited for the white folk to finish their lunch," he mused.
On another occasion, he was labelled "difficult" over wanting to discuss the sensitivities of black history and told instead to "emulate my colleague's cannabis dealer" in the way he behaved.
"I was told to be the sort of black person they were comfortable with. Be more like my drug dealer."
On-screen focus
Olusoga accepted strides have been made on-camera, with on-screen BAME drama representation currently at 26.8%, but said the unwillingness to change is taking place "behind the scenes, in the rooms where the decisions are made and the real creativity happens".
He contrasted this year's Bafta TV Awards - for which Idris Elba won a lifetime achievement award and Mo Gilligan, Romesh Ranganathan and The End of the F***ing World's Naomi Ackie scooped gongs – with the Craft Awards, for which there was not a single black or Asian winner.
"It is wonderful that our industry has figures like Steve McQueen but there is a risk we point to those exceptions and use their talents and achievements to hide from the wider reality," he added.
Solutions
Olusoga ended on a note of hope, pointing to today's young generation whose "attitude to race and discrimination is profoundly different from that of previous generations".
He welcomed the broadcaster's response to the Black Lives Matter movement and called on the government to set up a body to better hold the industry to account on diversity and inclusion. Unfortunately, Olusoga added, industry regulator Ofcom has failed in this task.
He also called on larger indies to better champion careers and spot talent, recognising that young black and brown people have "already climbed mountains of disadvantage that their more privileged peers have never encountered and know little about".
And he finally urged the industry to look to the "energy, inventiveness and decisiveness" that went into addressing TV's London bias as a blueprint for what can be done on diversity.
"Young people in this country - both black and white - simply do not want to live in a society disfigured by racism and racial inequality," he concluded.
"And they are willing to have the difficult conversations that the generations before them chose to avoid. In the end it comes down to this, does our industry have the will to genuinely share power with those who have, for so very long, been marginalised and silenced."
This story first appeared on Screen's sister site Broadcast