Ryan Reynolds-starring comic book film beats Zoolander 2 and Dad's Army.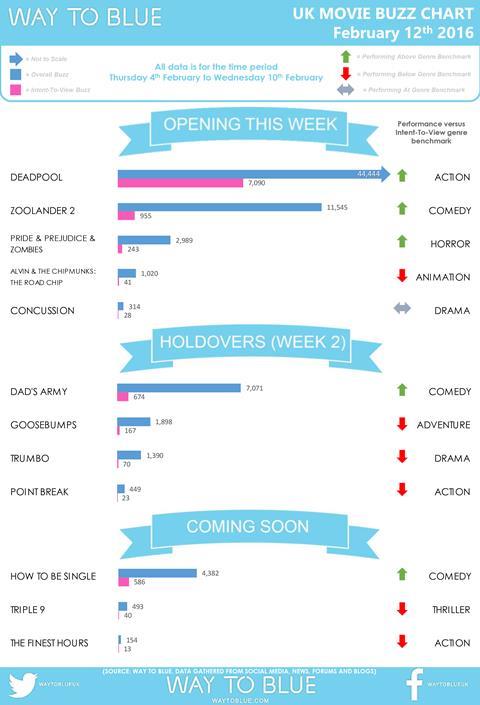 Deadpool, starring Ryan Reynolds as the titular superhero, destroyed the competition to top the social media buzz chart, according to analysis firm Way To Blue.
After opening on Wednesday (Feb 10), the comic book film generated 44,444 comments across social media, news, forums and blogs, with 16% of those registering intent to view, meaning they would look to convert comments into cinema tickets.
Comedy sequel Zoolander 2, which opens tonight (Feb 12), came second on the chart with 11,545 mentions (9% intent to view), beating Dad's Army, which opened last Friday, generating 7071 comments (10% intent to view).
Forthcoming releases Pride & Prejudice & Zombies, Alvin & The Chipmunks: The Road Chip and Concussion all failed to register a significant amount of online buzz, according to the chart.
On the horizon, Dakota Johnson-starring rom-com How To Be Single clocked up 4,382 mentions, with 13% of those expressing intent to view ahead of the film's UK release on Feb 19.