Arab and Tarzan Nasser's Dégradé took home AIFF's best film award, while Alante Kavaite won best director for The Summer Of Sangail.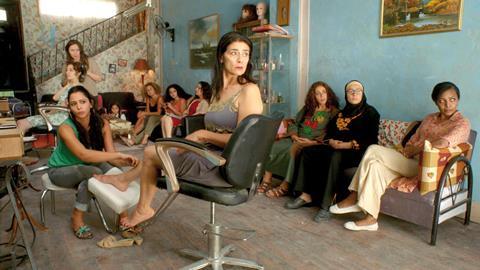 Dégradé, the Palestinian-French-Qatari co-production by filmmaker twins Arab and Tarzan Nasser, has won the Golden Athena award for best film at the 21st Athens International Film Festival (Sept 24-Oct 4).
The film was co-produced by Made in Palestine Project, Les Films du Tambour, Abbout Productions and Full House.
Starring Hiam Abbass in the lead role, the story unfolds in a Gaza Strip beauty salon where female clients get stuck when gunfire breaks loose in the streets. It debuted at the Cannes 2015 Critics week.
The festival's awards were decided by a five-member Youth jury comprised of cinema students.
Alante Kavaite won the best director trophy for The Summer Of Sangaile, a Lithuanian-French-Dutch co-production.
The film, which debuted at Sundance (Jan 22-Feb 1) where it also won the direction award in the World Cinema Dramatic competition, is about the sexual awakening of a 17 year-old Lithuanian girl.
The festival's best screenplay award went to Mark Noonan for You're Ugly Too, an Irish production starring Aidan Gillen that Noonan also directed.
The film, which debuted at Berlin (Feb 5-15) in the Generation Kplus section, has played in a score of festivals on the circuit including Edinburgh, Galway and Seoul.
Elsewhere, a special mention went to actress Veronica Linas for La Mujer De Los Perros (The Lady With The Dogs), which was co-directed by Linas and Laura Citarella, and the audience award went to the Labyrinth Of Lies (Im Labyrinth Des Schweigens), directed by Giulio Ricciarelli
In the music and films competition Jaco, directed by Stephen Kijak and Paul Marchand, won the Golden Athena for best film.
The film tells the story of Jaco Pastorius, a self-taught, larger-than-life musician. It was produced by Metallica's Robert Trujillo and Passion Pictures (Searching For Sugar Man).
The music and films international jury was presided over by French producer Olivier Thery Lapiney (Blue Is The Warmest Color) and also included Spanish producer Esther Garcia from Pedro Almodovar's producing outlet El Deseo; Rita Dietuma, director of the Latvian Film Centre; Sofa founder and Berlinale delegate Nikolaj Nikitin; and Angeliki Vergou from the Thessaloniki International Film Festival.
Further awards were handed over to features and short films in the festival's Greek section, which this year showed 102 films.
Yannis Veslemes was named best first time director for Norvigia, which follows a modern day photophobic vampire who arrives in Athens from the provinces and gets devoured by the dark underbelly of the capital city.
The film was produced by Christos Konstantakopoulos' Faliro House Productions and Yorgos Tsourgiannis' Horsefly Productions.
Elsewhere, Maria Filini was named best female debutant actress in Syllas Tzoumerkas' A Blast; Kosta Nikoulis and Nikos Gelia were named best debutant actors in Panos Koutras' Xenia; and Nikos Tsemberopoulos' Simon Says was awarded best short.
In 2015, AIFF showed a total 239 films including retrospectives and homages to Eytan Fox, Nicolas Roeg, Shirley Clark and Sean Baker.
Fox was present at the ceremony to introduce his retrospective accompanied by the likes of Gaspar Noe and Laurent Cantet, who presented their respective latest films Love and Return To Ithaca.
The festival's opening film was Paolo Sorrentino's Youth. The festival wrapped with a gala presentation of Jacques Audiard's Cannes Palme d'Or winner Dheepan.