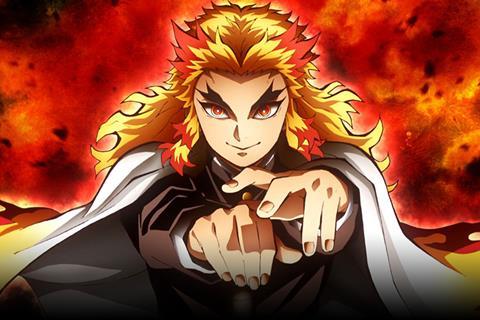 'Demon Slayer' slays Japan with $44m opening
Japanese anime Demon Slayer The Movie: Mugen Train delivered a sensational $44m three-day opening in Japan for joint distributors Toho and Aniplex – the top result globally at the weekend for any film on release, and the biggest ever opening for a film in Japan.
The film is adapted from the manga Demon Slayer: Kimetsu No Yaiba by Koyoharu Gotoge, and was previously adapted into a 2019 TV series. Both the series and the film are directed by Haruo Sotozaki, whose animation department credits include Cowboy Bebop: The Movie (2001) and TV series Romeo X Juliet (2007).
Mugen Train (aka Infinity Train) also delivered the biggest ever opening in Japan for IMAX, earning $2.27m from 38 IMAX screens, a $60,000 average. Funimation will release the film in North America early next year.
'30 Jours Max' beats 'Trolls World Tour' to top of French box office
Studiocanal will be celebrating the success of French comedy 30 Jours Max after it scooped the top of the French box office, seeing off the challenge of fellow new release Trolls World Tour. Tarek Boudali stars as a klutzy police officer on a mission to prove himself after he is told by a doctor he has 30 days to live. Boudali also directs and co-writes, as he did with 2017 comedy hit Épouse-moi mon pote (in which he stars as a man who asks his male best friend to marry him, to avoid deportation).
30 Jours Max achieved 373,000 admissions from 615 sites in its first five days, convincingly beating Les Trolls 2 Tournee Mondiale (as the Universal Pictures-distributed DreamWorks Animation film is known in France) with 280,000 admissions over the same period.
For context, last week's chart topper The ABCs Of Love earned the top spot with just 95,000 admissions, so both 30 Jours Max and Trolls World Tour delivered comparatively big numbers. Unlike other major territories, France did not release Trolls World Tour on VoD during the Covid lockdown period.
The films in third and fourth place are likewise new entries: Liam Neeson starrer Honest Thief (known in France as The Good Criminal) delivered 91,000 admissions for Metropolitan; and Thomas Vinterberg's Another Round (or Drunk, as it's known in France) is right behind with 88,000 for Haut et court.
The other new entry in France's Top 10 is family animation Calamity, A Childhood Of Martha Jane Cannary, for Gebeka Films, with 35,000 admissions from 250 cinemas.
'Tenet' adds $5m from international markets
Christopher Nolan's Tenet grossed an estimated $5m in its eighth session internationally, down from $7.9m for the previous weekend. The decline of 36% is almost identical to the 35% drop experienced by the spy thriller the previous weekend – a decent result given no new significant openings for the film.
International cumulative total for the Warner Bros release is now an estimated $283m, and the global tally (including North America) is $334m. IMAX screens account for $32.1m, or 11% of the total.
Continuing the trend of the previous weekend, top international performer with Tenet was Japan, with an estimated $1.3m in its fifth session. Next comes Germany with $650,000.
In cumulative totals, the film's international league table remains unchanged at the top, with China ($66.3m) leading ahead of UK and Ireland ($22.1m), France ($21.9m), Japan ($21.6m), Germany ($18.2m) and South Korea ($14.9m). Japan looks likely to overtake France and the UK in the next couple of weeks.
Next territories to release Tenet are Brazil and Panama on October 29, with 18 more to follow, including Argentina, India, Indonesia and the Philippines. According to Box Office Mojo, Interstellar grossed $5.1m in Brazil (out of a $696m global total), while the country contributed $4.6m of the $527m Dunkirk total.
Family films dominate German box office
The top three films at the German box office are all adaptations of popular children's fiction.
Local family film Jim Button And The Wild 13, adapted from the novel by Michael Ende, is once again the chart champ for Warner Bros in its third session. Constantin Film's newly released Dragon Rider, adapted from the 2004 Cornelia Funke novel, is in second, while in third comes Studiocanal's release of Heyday Films' production of The Secret Garden, based on the Frances Hodgson Burnett classic and directed by Marc Munden.
In fourth place is Studiocanal's local comedy Es Is Tzu Deinem Besten (a remake of 2017 Spanish comedy Es Por Tu Bien), now in its second session. Tenet slides to fifth place in the line-up.
'After We Collided' opens top in Belgium
Voltage Pictures' After We Collided enjoyed another very steady session with weekend takings estimated at $2.06m, virtually level with the previous frame. Top market was Belgium, where the film enjoyed an opening at the top of the box office chart, delivering $877,000 for local distributor Belga.
Netherlands comes next, with a weekend haul of $419,000, also for Belga. Germany is third for the title at the weekend, with $295,000 for Constantin.
Total for After We Collided after seven weeks of play is $45.6m, which compares with a final total of $70m globally for the original film in the series, 2019's After. Both films are adapted from the series of novels by Anna Todd, and star Josephine Langford and Hero Fiennes Tiffin.
In After We Collided's league table of cumulative totals, the top territories remain unchanged, with Germany ($8.86m) leading the pack ahead of Italy ($4.95m), UK and Ireland ($4.88m), Russia/CIS ($3.9m) and Spain ($3.81m). Netherlands has delivered $1.69m after just two weekends of play, so looks like a contender to emerge as one of the top territories by the end of the film's run there.
After We Collided releases in the US this Friday (October 23) with a simultaneous theatrical and VoD strategy. After achieved $12.1m of its $70m global total in North America. After We Collided has already released in Canada, via VVS Films, grossing $1.22m.
'Greenland' stays top in Italy and New Zealand
Gerard Butler action thriller Greenland enjoyed a second weekend at the top of the box office in both Italy and New Zealand at the weekend, with Italy providing the film's highest individual-territory weekend tally: an estimated $445,000 for Lucky Red, and a $1.5m total.
Greenland's estimated international weekend box office is $1.64m, which compares with $2.84m for the previous session – a decline of 42%. International total to date is $31m.
After Italy, Greenland's next best market at the weekend was Middle East, with an estimated $400,000 in its fourth week, and a $5m total for distributor Italia Film. The film ranked second place there at the weekend, behind Jackie Chan action film Vanguard.
In Spain, Greenland added an estimated $251,000 in its fourth week of release, for a $2.5m total. The film is in second place there, behind newly released local thriller Cross The Line (aka No Matarás). David Victori (The Pact) directs Mario Casas as a good-natured man whose life is turned upside down after killing in self-defence. The title translates directly as Thou Shalt Not Kill.
Next to open for Greenland – in which Ric Roman Waugh (Butler's Angel Has Fallen) directs the story of a family fighting for survival as a comet races to Earth – are South Africa on October 23, and Germany and Austria on October 29.
In Italy, Greenland was trailed in second place by The Pantani Affair, a biographical drama about Italian cyclist and 1998 Tour de France winner Marco Pantani. Local comedy Lockdown The Italian Way is in third, with Armando Iannucci's The Personal History Of David Copperfield in fourth. All three titles are new releases in Italy.