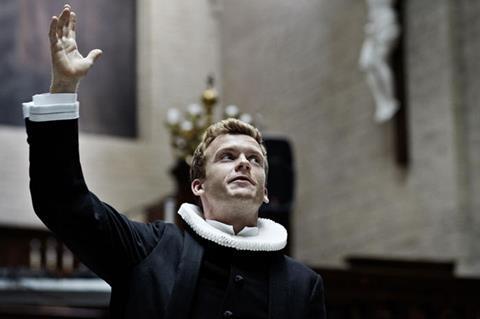 Adam Price, writer of Danish TV series Ride Upon the Storm (Herrens veje), won the 2018 Nordisk Film & TV Fond Prize, worth $25,000 (SEK 200,000).
The second annual award, for outstanding writing of a Nordic drama series, funded by Nordisk Film & TV Fond, was revealed tonight at the Goteborg Film Festival.
The character-driven centres on a family of priests that traces its roots back more than 250 years.
The jury included Swedish actress Sofia Helin (The Bridge); Walter Iuzzolino, the UK-based TV executive and curator of streaming service Walter Presents; and Finnish journalist Kirpi Uimonen Ballesteros.
The jury said: "All the nominated programmes are exceptional examples of Scandinavian storytelling at its best, showing breadth and scope but also superb crafting. But the winner stood out for a very simple reason – it is unlike any Scandinavian show we had ever seen before. A bold, original approach to a deeply unfashionable subject.
An innovative push into a genre that does not mirror the hugely successful Scandi formula for fast, slick thrillers. We all felt this was a piece of television destined to transform and refresh the Scandi canon. Quite simply, it was a show with a beating heart and soul."
Price is best known as the creator of hit series Borgen.
Ride Upon The Storm is 10x60' series directed by Kaspar Munk and produced by Camilla Hammerich at DR Drama. Studiocanal distributes internationally.
The other nominees were: Borderliner from Norway, Deadwind from Finland, The Lawyer from Sweden, and Stella Blomkvist from Iceland.