JULY 3 UPDATE: Baby Driver delivers career-best debut for Edgar Wright in second place through Sony; New Line's The House collapses.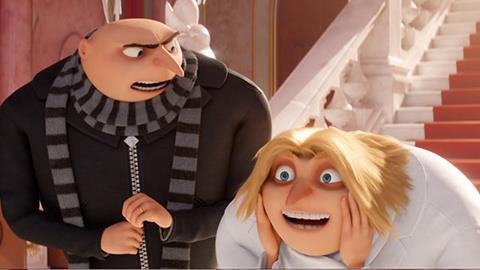 Illumination Entertainment's Despicable Me 3 opened top in North America over the three-day portion of July Fourth weekend on a confirmed $72.4m through Universal, some way below the $85m-$90m pre-weekend predictions and several million dollars off the studio's initial estimates on Sunday.
Edgar Wright's action thriller Baby Driver opened in second place through Sony's TriStar label on $21m rising to $30m since the Wednesday launch, while Will Ferrell comedy The House disappointed in sixth place on $9m through Warner Bros.
The below-par performance of Despicable Me 3 means summer 2017 is trailing last year by around 8% according to ComScore, while the year as a whole is about the same as 2016 by the same stage.
The third entry in the money-making animation franchise opened through Universal in 4,529 theatres and combined with the $116.9m estimated international running total for an early $189.3m worldwide.
The three-day North American debut trailed the $115.7m debut of Minions in July 2015 by 37.4%, and fell behind the $83.5m launch of Despicable Me 2 in 2013 by 13.3%, rising to 17.3% when that tally is adjusted for inflation to $87.5m. The original arrived on $56.4m in July 2010.
Steve Carell voices the lead characters of Gru and his long lost brother Dru in Despicable Me 3. The voice cast includes Kristen Wiig, Trey Parker, Steve Coogan, Julie Andrews.
Baby Driver marks Wright's biggest North American by far, so much so that in five days it has almost overtaken the $31.5m lifetime gross of his previous biggest hit, 2010's Scott Pilgrim vs. The World.
TriStar partnered with MRC and Working Title on the heist thriller, which debuted at SXSW in March and grossed $30m from 3,226 theatres over its first five days. At a reported production cost (excluding marketing) of $34m, the film is on its way towards profitability. Ansel Elgor stars alongside Kevin Spacey, Lily James, Eiza Gonzalez, Jon Hamm, and Jamie Foxx.
Will Ferrell experienced one of the lowest opening weekends of his career as New Line/Village Roadshow's comedy The House co-starring Amy Poehler opened through Warner Bros at number six on $8.7m from 3,134 theatres.
Paramount's Transformers: The Last Knight fell 62% and two places to number three in its second session, adding $17m for $102.1m. The international gross is helping to spare executives' blushes and stands at $332m for a decent $434.1m worldwide running total.
Wonder Woman ranks fourth on a mighty $346.2m through Warner Bros after five weekends and stands at $708m worldwide.
After three sessions Cars 3 at number five has mustered a lacklustre $120.9m through Buena Vista. That compares unfavourably to its 2011 predecessor's $148.8m by the same stage, and equates to a 25% drop against the earlier film's $161.2m gross after three weekends in real terms. International box office will most likely make the worldwide haul look respectable and stands at an early $53.1m.
Focus Features expanded Cannes award-winning director Sofia Coppola's Gothic drama The Beguiled, boosting the theatre count from four to 674 and as the film surged 14 places to number eight on $3.2m for $3.5m after two.
Amazon Studios' sensation last weekend The Big Sick climbed six slots to number 12 through Lionsgate on $1.7m for $2.2m and is expected to play well through the summer on strong word of mouth and critical response. Another Sundance hit Beatriz At Dinner, which Lionsgate's partner Roadside Attractions distributes, ranks 15th and stands at $4.8m after four.
Gunpowder & Sky opened Aubrey Plaza comedy The Little Hours at number 29 on $61,560 in two venues.
Overall the top 12 films generated $164.7m at the box office, up 21.2% on last weekend and down 11.4% against the comparable session last year when Finding Dory held firm at number one in its third weekend.
This week's wide release is Sony Pictures' Spider-Man: Homecoming starring Tom Holland as the latest iteration of the web-slinger.
Confirmed top 10 North America June 30-July 2, 2017
Film (Dist) / Conf wkd gross / Conf total to date
1 (-) Despicable Me 3 (Universal) Universal Pictures International $72.4m –
2 (-) Baby Driver (Sony) Sony Pictures Releasing International $21m $30m
3 (1) Transformers: The Last Knight (Paramount) Paramount Pictures International $17m $102.1m
4 (2) Wonder Woman (Warner Bros) Warner Bros Pictures International $15.7m $346.2m
5 (3) Cars 3 (Buena Vista) Walt Disney Studios Motion Pictures International $9.7m $120.9m
6 (-) The House (Warner Bros) Warner Bros Pictures International $8.7m –
7 (4) 47 Meters Down (Entertainment Studios) $4.5m $32.4m
8 (22) The Beguiled (Focus Features) Universal Pictures International $3.2m $3.5m
9 (5) The Mummy (Universal) Universal Pictures International $2.9m $74.7m
10 (7) Pirates Of The Caribbean: Dead Men Tell No Tales (Buena Vista) Walt Disney Studios Motion Pictures International $2.5m $165.6m