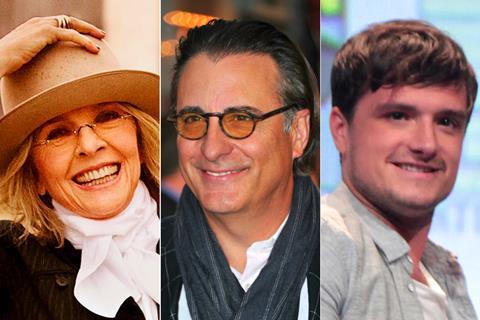 Diane Keaton, Andy Garcia and Josh Hutcherson have signed to star in Raymond De Felitta's comedy Artist In Residence, which London-based Protagonist Pictures is launching to international buyers at the Cannes Marche this month.
WME Independent is handling the North American sale on the title, which is from a script by De Felitta and produced by Lauren Versel for Lucky Monkey Pictures and Joe Pichirallo.
Set in New York City, Artist In Residence follows an eccentric female artist (Keaton) who is faced with eviction from her home by a powerful developer (Garcia). She forges two unlikely alliances: one with the developer's son (Hutcherson) who was supposed to lead the eviction; and the other with an ambitious female TV reporter who creates a media event out of it.
US filmmaker De Felitta's previous features include 1995's Cafe Society, 2000's Two Family House and 2009's City Island, the latter of which also starred Garcia.
Keaton and Garcia recently starred together in Bill Holderman's 2018 comedy Book Club.
"We're excited to be back in person with buyers, to introduce them to this special film that is led by such tremendous talent," said Janina Vilsmaier, head of sales at Protagonist Pictures. "Raymond De Felitta has created a heartwarming story, at a time during which we're all in search of one, and we know our phenomenal cast will bring it to life in a way that truly resonates with audiences. Diane and Andy already showed us that they are dynamite together in Book Club, and the charming and talented Josh is the perfect addition to truly elevate the story to the highest level."