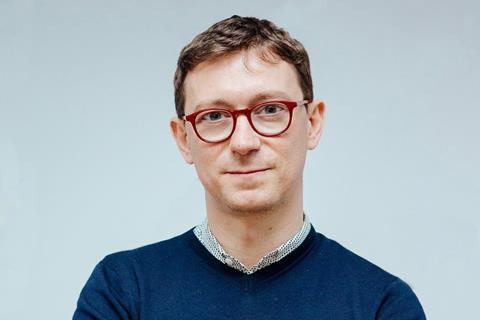 Italian-born Paolo Moretti was appointed artistic director of Directors' Fortnight in 2018, after a decade of programming across Europe at institutions such as the Centre Pompidou in Paris and the Spanish Cinematheque in Madrid as well as festivals including Venice, Rome, FIDMarseille and Leeds.
After last year's pandemic hiatus, he announced his second selection at the helm on Tuesday (June 8), comprising 24 features and nine shorts by established and emerging filmmakers.
Is 2021 the 52nd or 53rd edition?
We counted last year as the 52nd edition because we announced two films that we selected before everything stopped: Luca Guadagnino's We Are Who We Are and Miranda July's Kajillionaire. They were the only two films of the 52nd edition. We also gave an endorsement to the French film Monopoly Of Violence because it was on our radar but didn't get as far as being selected.
Most of the films we selected that could wait, waited for this year. Luca and Miranda's films already had scheduled release dates and couldn't wait so we decided to acknowledge that they had been selected. So we counted last year as the 52nd and this is the 53rd edition.
How many films did the Directors' Fortnight selection group and committee screen this year?
1,393 features and 2,042 shorts
Did that cover both this and last year?
This year only, but we didn't have a lot left over from last year as we were close to tying up the selection when the cancellation was announced. The films we rejected were not allowed to re-submit, while we sent a letter to all the films on our long shortlist inviting them to re-register again this year. A small number of films, not more than 17 and 18, accepted this invitation.
So it was quite a risk for those on the long shortlist to hold because you weren't guaranteeing them a place?
Yes and no. There was so much uncertainty around the reopening of cinemas theatres and festivals, a lot of films naturally got held back. We felt it was important to give some sort of perspective, or focus for the film teams. The prospect of being able to go through a selection process again was a kind of release for many of them.
This interim period was beneficial for many of the films as it gave more time to work on the edit and post-production. We had some impressive surprises with a number of films that became more precise and bigger to make a stronger impression than last year.
The UK has a strong presence in Directors' Fortnight with Clio Barnard's Ali & Ava and Joanna Hogg's The Souvenir II. Has the time you spent in the UK has made you more open to the country's cinema?
I'm a hardcore fan of Clio's films and I've followed her work ever since I was blown away by the Arbor. I organised one of the only screenings for the film in Italy at my film club in Venice where I was living and working at the time.
I naturally keep my eye on what is going on in the UK. There is a whole generation of British auteurs that are making extremely modern and very personal cinema. We also mustn't forget Andrea Arnold's film in Official Selection [Cow]. It's a brilliant year for the UK.
How long did you spend in the UK?
I spent a year at the film festival in Leeds. I had a wonderful time with wonderful colleagues. It had a very broad programme, from blockbusters to militant documentaries. It was a cinephile feast for someone like me who was just starting in programming.
Curiously, there is a connection between this year's Fortnight selection and Leeds. It was while at Leeds that I met French filmmaker Jean-Gabriel Périot, who will be in Cannes at Directors' Fortnight for the first time with Returning To Reims, an archive film narrated by Adèle Haenel. I got to know Jean-Gabriel because of a short film of his that we programmed called We Are Winning, Don't Forget. It was such a visual blast I've never forgotten it and I always associate it with Leeds.
The experience of living somewhere amplifies your semiotic sense of the place as you learn the language and absorb its codes. When you're faced with a representation that comes there you have a deeper kind of perception, understanding
What do you mean by 'semiotic sense'?
I studied semiotics, the study of signs, for a couple of years in Bologna on the course led and founded by Umberto Eco. This is an important element of my cinephilia and my relationship to film. I see it as a kind of forest of signs and I deeply enjoy trying to decode all of them
Do you feel there are any common themes or ideas running through the films in this year's selection?
That's a question that would have been easier to answer in 2019. This year, the films all appear to head in different directions. It's hard to find a thin red line connecting them. That is perhaps because of the collective approach with the selection group and committee which makes the selection an expression of a collective spirit. I don't impose things but rather kind of try to orientate the discussion, to arrive at a selection that is coherent with the history and mission of the Fortnight. When a film and an artist's way of capturing a reality excites us, we all start gathering around it, getting excited, imagining how it could fit into the selection. We can spend two, three, four months following a film, watching how it evolves… it can be a long process.
There are a number of films, however, touching on issues such as social precarity and the impact of poor working conditions, such as the opening film Between Two Worlds and The Employer And The Employee?
That's true and it's also there in the backdrop of other selections like Europa, Futura, exploring the future of Italy, and The Hill Where Lionesses Roar and Murina which has a sub-layer touching on class struggle.
The ratio of female to male filmmakers in the selection is roughly 50:50, how does this compare with submissions?
We have to dig into this deeper but it was around 30:50 this year.
Did you deliberately aim for parity?
We proceeded very naturally. We didn't force the percentage. It just happened that there were very interesting films directed by women. We can but rejoice. We have to thank all the movement that has been going on over the past two years. When people started pointing the finger at film festivals saying that there was not enough female representation, it was true. But the film festivals were not the only bodies responsible. It's important to look at the entire chain, the schools, producers. Of course, film festivals also play their part. They are also the moment you actually see the results and we're happy, it's going in the right direction.
Directors' Fortnight also has a long tradition of welcoming US indie fare but there is only one US production in this year's selection, Saul Williams and Anisia Uzeyman's Neptune Frost. Were there fewer US submissions this year?
The Americans weren't available this year. US production works differently in terms of financing from Europe. What we felt was that there are some films which are still suspended. They are there but in terms of potential financial return it's still considered may too risky to make the film exist. It's just a feeling, I don't have proof of this.
We're super happy with Neptune Frost. It's is such an unexpected kind of work. It's a US-Rwanda production, an African-American production shot in Rwanda and we are happy the US is represented by this film this year.
Thierry Frémaux has said Un Certain Regard is going back to its roots as a place for younger, more inventive cinema. Does tis make it harder for Directors' Fortnight in terms of securing its selection?
I wouldn't say so. We're not competitive towards other selections in Cannes, especially Official Selection, we're complementary. In the same way, Cannes is developing or restructuring an identity for Un Certain Regard, our identity is also in constant evolution.
Throughout this period, starting from 2020 there has been a constant dialogue between all the sections and this is most welcome. It's in everyone's interest, and especially in the interest of the films, that we work together.