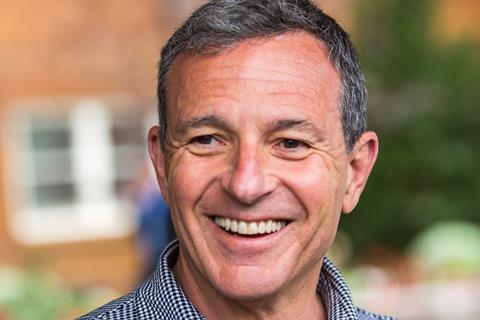 Newly reinstated Disney CEO Bob Iger used a town hall meeting with employees on Monday morning to dismiss talk of a sale to Apple as "pure speculation" as he said he would stick with a proposed hiring freeze.
According to reports and Twitter posts Iger also spoke about Florida and the workplace at the session, which employees attended in-person and virtually.
The CEO said Disney would move ahead with the hiring freeze announced earlier this month by Bob Chapek, adding that the leadership team would need to work quickly and be smart about it.
There appeared to be no mention in reports of lay-offs, travel restrictions, or a review of content and marketing spend, which were touched on recently by Chapek, the former Disney CEO who was ousted eight days ago in the wake of poor financial performance. Disney's stock has plummeted 40% this year and dropped around 3% on Monday to settle on approximately $96 at time of writing.
On the subject of corporate acquisitions by Disney, Iger said that while nothing was forever he was happy with the company's stable – Marvel Studios, Pixar and Lucasfilm were all brought into Disney under his previous watch as CEO – and did not anticipate new acquisitions.
The CEO noted that there was value in creative businesses for employees to work together in the same physical space. He said he was not making any proclamations on the subject, which is a sensitive one in light of the pandemic, and suggested companies should be flexible in their approach to the subject.
One of Chapek's faux pas during his relatively brief tenure centred on Florida, where Disney employs thousands of people at Walt Disney World. The former CEO came under fire for the debacle over the state's "Don't Say Gay" bill and drew fire from Pixar employees, who also issued a statement in March claiming Disney cut moments of "overtly gay affection" in their storytelling.
Ever the diplomat, Iger tip-toed around the subject of Florida and said he did not want Disney embroiled in controversy and would do what he could to calm things down. The CEO said inclusion, acceptance and tolerance were core values in Disney storytelling, while noting the company could not make everybody happy all of the time.
According to The Hollywood Reporter, Iger also sang the praises of technological advancement – lip service was paid to images created by artificial intelligence, which he suggested the company was likely to explore at some point in the future.
On the subject of his own return to the company he lead as CEO for 15 years, the executive said he was somewhat surprised when he was asked to return, although he had a hunch and had asked his wife Willow Bay for advice. Bay told him he should take the job.
Black Panther: Wakanda Forever continues to rule global box office and has crossed $675m after three weekends, while Strange World flopped in North America and disappointed internationally. Disney is preparing to release 20th Century Studios' Avatar: The Way Of Water on December 16.